POSTER ABSTRACTS
Materials should NOT be shared with those that are not registered for the conference. Poster abstracts are not proofed for spelling and/or grammar errors.
The poster and/or other information contained on this website may NOT be downloaded and/or used without prior written permission from all authors on the project. If you would like to be connected with the author(s), please email cme@dmu.edu.
---
The role of sex and age in the development of obesity in MuRF1 KO mice 
Luis G. O. de Sousa, PhD and Sue C. Bodine, PhD
Department of Internal Medicine, University of Iowa Carver College of Medicine, Iowa City, IA
---
Abstract
Diet-induced obesity is associated with body weight gain, glucose intolerance, and insulin resistance. Previous studies have shown that C57BL6 female mice are more resistant to developing obesity and glucose intolerance even on a high-fat diet, when compared with adult male mice (PMID:28394359; PMID:24934286). In the current study, we examined the impact of age and sex on the development of glucose intolerance and insulin resistance following 17 weeks on a HFD.  Female and male WT and MuRF1KO mice (12 months of age) were subjected to two different diets, Chow or 45% HFD, for 17 weeks. After 17 weeks, the HFD induced a significant increase in the body weight of WT female, but not WT male mice.  In contrast, in females both WT and MuRF1KO mice showed a significant increase in body weight. Interestingly, both WT and MuRF1 KO female mice became glucose intolerant and insulin resistant after 17 weeks on a HFD. Male WT and MuRF1KO mice were glucose intolerant and insulin resistant on both a chow and HFD. These results differ from our previous study, which was performed in young adult mice, and revealed that with aging female mice become more similar to male mice, developing glucose intolerance and insulin resistance to a HFD. Interestingly, at 12 months of age, male mice are insulin resistant even on a chow diet, and show little response to a HFD. The mechanisms underlying the sex and age interactions are unknown and require further study.  
NIH/NIAMS R01AR070031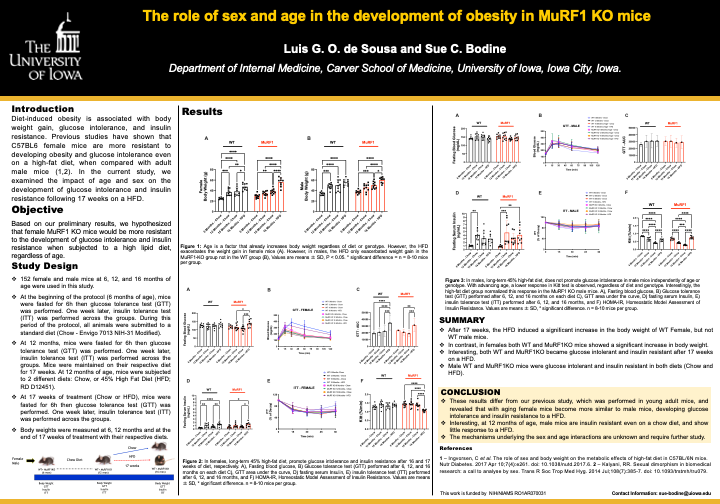 Access PDF version to expand view.
---