VANESSA GRAY, MHA, CMP, CHCP
Director
Mrs. Gray's career in Continuing Medical Education (CME) started in 2006, where she developed educational programs for Intermountain Healthcare, the largest healthcare system in Utah. In 2010, she joined Des Moines University and has grown the CME program from 12 activities annually to an average of 450 educational offerings. Under her leadership, Des Moines University maintains several multi-disciplinary accreditations through the Accreditation Council for Continuing Medical Education (ACCME) (with commendation), the American Osteopathic Association (AOA) (with commendation), the Iowa Board of Nursing, the Council on Podiatric Medical Education (CPME), and the American Academy of Physician Assistants. 
 
Mrs. Gray wholeheartedly believes in the impact CME has on the healthcare industry. She is incredibly passionate about the role of patients and their families in the healthcare team - including medical education and research. She believes involving patients in the delivery of CME engages the clinicians' minds and hearts, reinforcing why their work matters.
 
Mrs. Gray is active in the CME profession serving on multiple national and regional committees, including the ACCME (including being a mentor for novice CME professionals), CPME (6-year CME committee and ad-hoc member), DMU Health Leaders (director of operations), National Commission for Certification of CME Professionals (finance committee), and Meeting Professional International, Utah Chapter (director of professional development and education). Mrs. Gray is a frequent presenter at CME industry conferences speaking on patient involvement in CME, ACCME compliance, outcomes measurement, digital accessibility, adult learning principles, data privacy, learning communities, and audience engagement.
 
Mrs. Gray received her undergraduate degree in business and economics from the University of Utah and her Master of Health Care Administration from DMU. She earned her Certified Continuing Medical Education Professional (CHCP™) credential, a designation from the Alliance for Continuing Education in the Health Professions for the most knowledgeable and skilled individuals in the profession. Mrs. Gray also has her Certified Meeting Professional (CMP) designation.
 
Mrs. Gray lives with her family, two dogs, and a cat in Adel, IA. She enjoys visiting breweries, is a lifelong runner, triathlete, vegetarian with a large garden, and an avid reader.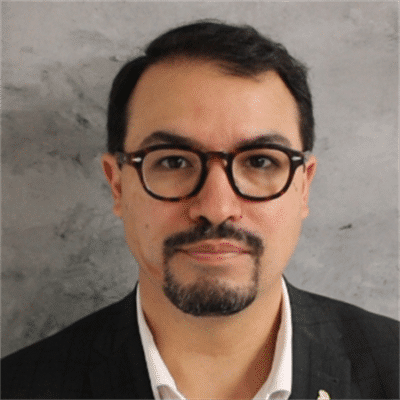 JASON RAINWATER
Coordinator
Mr. Rainwater began his career in the United States Air Force in 2000 as an Aircraft Structural Maintenance Technician. He served eight years of active duty service and was assigned and deployed to over 12 countries. During his time in uniform, he earned military certifications in project management and administrative services, and upon being discharged, he moved to Des Moines, Iowa. He began a career in financial services working with several community banking organizations. Mr. Rainwater soon wished to return to public service and joined the Iowa Department of Agriculture and Land Stewardship as a Program Coordinator. Mr. Rainwater would join Des Moines University (DMU) in 2022 as the Administrator for the Center for Educational Enhancement (CEE) and then as the new Coordinator for the Continuing Medical Education (CME) department continuing his strong passion for public service through education.
Mr. Rainwater serves as the Treasurer for the DMU Staff Organization Executive Committee. He is also a theatre education volunteer at Theodore Roosevelt High School and is an at-large member of Veterans of Foreign Wars (VFW). Mr. Raineater is an Air Force Airman Leadership School graduate and certified Notary Public for the State of Iowa. 
Mr. Rainwater lives with his wife, Kate, and has two daughters in college, Rebecca, studying psychology, and Alissa, studying nursing. He enjoys baseball and all things Star Trek and is an avid collector of antiques and historical collectibles. Among his pride of place items are a silk bookmark from 1876 celebrating the United States Centennial and a letter John Adams wrote regarding one of his law cases from 1765.