Mentored Student Research Program

Research is vital and at DMU students are vital to research.
Contributions from students are vital in helping move campus research forward. The Mentored Student Research Program is an excellent opportunity for students to highlight their research findings. We're excited to offer both oral and poster presentations and all summer research students are invited to participate. Students may present on any topic or experience related to research.
Registration and Abstract Submission

Registration
You must login or create an account before enrolling in this educational activity.
Once you're logged in, click the green "ENTER" button found in the Course Summary box to the right. Your registration will then be confirmed.
Abstract Submission
Abstract submission: Friday, July 14 at 12 pm
Submit your abstract. (CLOSED)
View an abstract example. 
Notification of oral presentations: Friday, July 14
 
Poster submission to the DMU print shop: Tuesday, July 18 by 3 pm
Quick Links
Agenda
The agenda will be updated as additional details become available.
Time
Agenda
8:30 am
Registration, Breakfast, and Poster Viewing
9 am
Welcome
Jeffrey Gray, PhD
Vice President of Research and Global Initiatives, Professor of Microbiology and Immunology, Des Moines University
9:15 am

Keynote Address - It Takes a Village: A Translational Scientist's Journey

Alexandra J. Greenberg, PhD, MPH
Assistant Professor of Epidemiology, Center for Clinical and Translational Science, Mayo Clinic

Describe the role of team science in translational biomedical research
Distinguish between cross-, multi-, inter-, and trans-disciplinary research
Evaluate what types of research teams individuals can participate in
Consider how to grow into an inter- or trans-disciplinary research team

10:15 am
Poster Viewing
10:45 am
Evidence of Different Growth Strategies in Phytosaurs from the American Southwest
Robert Katz, Cooperstown Graduate Program
11 am
The Acinetobacter nosocomialis Strain M2 T6SS Effector Ase1 Degrades Peptidoglycan
James Dorosh, DO'20
11:15 am
Group Picture
11:30 am
Poster Viewing
12 pm
Lunch and Poster Viewing
12:30 pm
Food Insecurity in Iowa: A Predictive Modeling Approach
Christine Jackson, DO'20
12:45 pm
Mediterranean Diet Pattern in the Multi-Ethnic Study of Atherosclerosis
Pooja Gottumukkala, DO'21
1 pm
Adjourn
Keynote Speaker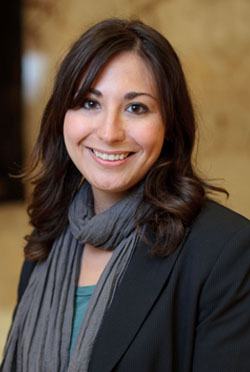 Alexandra J. Greenberg, PhD, MPH
Assistant Professor of Epidemiology, Center for Clinical and Translational Science, Mayo Clinic
Education
BA: Grinnell College
MPH: Quantitative Methods, Harvard T.H. Chan School of Public Health
PhD: Mayo Graduate School of Biomedical Sciences
Postdoctoral Fellowship: Cancer Epidemiology, Mayo Clinic
Cancer Prevention Fellowship: Health Communication and Informatics Research Branch, Behavioral Research Program, and Outcomes Research Branch, Healthcare Delivery Research Program, Division of Cancer Control and Population Sciences, National Cancer Institute
Dr. Greenberg indicated she has no financial relationships to disclose relevant to the content of this CME activity.
Abstract Guidelines
Submit your abstract. (CLOSED)
View an abstract example. 
Research abstracts must be submitted under one of the following categories:
Anatomy/Paleontology
Biomedical Science
Clinical 
Education
Movement Science
Public Health
All abstracts will be published in the meeting program. Please submit your abstract according to the following guidelines:
Format: Microsoft Word format
Font: Arial, 11 point
Margins: 1 inch on all sides
Spacing: Single-spaced
Justification: Left
Abstract body length: No more than 250 words
Type the title first, using title casing.
Capitalize the first letter of each word except prepositions, articles and species names. Italicize scientific names of organisms.
List all authors, institutional affiliations and short addresses (city and state only).
Bold the names of the author(s) presenting the work.
Writing Tips
Consider the following questions when preparing your abstract:
Does the abstract clearly state the aim of the project (i.e. a research question, theoretical issue, or problem)?
Is the significance of work clearly stated?
If relevant, are the methods, data collection, and analysis procedures well-designed and appropriate to the question addressed?
Are the conclusions justified in relation to the data and/or analysis/description?
Is the abstract written clearly and organized well?
Oral and Poster Presentations
Students will have the opportunity to discuss their research through oral or poster presentations. Most students do not complete an entire research project during the summer, but rather work on a portion of a larger study. When thinking about doing an oral or poster presentation, it is perfectly acceptable to focus the student's presentation on hypotheses and methodology in the absence of conclusive results. It is ideal if you begin discussing with your student early in the summer about what they can present.
Oral Presentations
Students may apply to be selected to be included in the student keynote portion of the closing program. Four students will be chosen to give an oral presentation involving 12 minutes to speak and 3 minutes for audience questions about the research they conducted throughout the summer.
If the work is co-authored, only the PRESENTING author will submit on behalf of all co-authors. The names of all co-authors must be listed in the submission form. For work with multiple authors, the authors can decide among themselves their various roles in presenting within the 12 minute limit.
A moderator keeps track of your presentation time and may also facilitate the discussion. Microsoft PowerPoint 2010 will be used to project slides. Please make sure your presentation is compatible with this program. If you prefer to use a MAC computer you will be responsible for bringing an adaptor. Presentation and video files should be stored on USB drives.
Resources
Poster Presentations
Students who are not doing an oral presentation must present a poster to showcase their work over the summer. The posters will be displayed during the closing program. If the work is co-authored, only the PRESENTING author will submit on behalf of all co-authors. The names of all co-authors must be listed in the submission form. 
Materials to hang your poster will be available onsite.
Posters are displayed throughout the day. Please do not remove your poster until the end of the day's activities.
Posters must be hung by 8 am and removed by 1:30 pm. If you're able, please hang your poster as early as possible as we encourage people to view them the entire day.
Prepare and practice a short summary speech—no more than 3 minutes—about your project. This is an excellent networking opportunity, so it is important to speak and interact professionally.
Any remaining posters will be kept in the CME office (AC #430) until July 28, 2017.
Printing Guidelines
Posters for the program must be printed at the DMU print shop and emailed to printshop@dmu.edu.  
Posters will need to be submitted to the print shop and proofs signed by Tuesday, July 18 at 3 pm.
The poster will not be reviewed for academic content.
For poster printing questions, please contact Brenda at 515-271-1402.
Resources
IRB or IACUC Approval
If your project involves human or animal research, you must have obtained IRB or IACUC approval, unless you are clearly presenting your work as a proposed project and make it clear that absolutely no research has yet been conducted. Posters involving such research should indicate an approval number or state that no research has been conducted. Anyone giving an oral presentation on a project involving human or animal research must have an IRB or IACUC approval. For questions, please contact the DMU Office of Research at 515-271-1445.
Dress Code
Business casual.
Frequently Asked Questions
Have questions regarding the Mentored Student Research Program? Click here. If your question isn't answered, please contact DMU CME at cme@dmu.edu or 515-271-1596.
Questions
515-271-1596
cme@dmu.edu
https://cme.dmu.edu
Des Moines University
3200 Grand Avenue
Student Education Center
United States
Continuing Education Credit
DO: Des Moines University (DMU) is accredited by the American Osteopathic Association (AOA) to provide osteopathic continuing medical education for physicians. DMU designates this program for a maximum of 3.0 AOA Category 2-A credits and will report CME and specialty credits commensurate with the extent of the physician's participation in this activity.
DPM: Des Moines University (DMU) is approved by the Council on Podiatric Medical Education as a provider of continuing education in podiatric medicine. DMU has approved this live activity for a maximum of 3.0 continuing education contact hour(s).
MD: 

This activity has been planned and implemented in accordance with the accreditation requirements and policies of the Iowa Medical Society (IMS). Des Moines University (DMU) is accredited by the IMS to provide continuing medical education for physicians. 

DMU designates this live activity for 3.0 

AMA PRA Category 1 Credit(s)™

. Physicians should claim only the credit commensurate with the extent of their participation in the activity.

​Other: This live activity is designated for 3.0 AMA PRA Category 1 Credit(s)™.
Educational Grants
No commercial interest provided financial support for this continuing education activity.
Available Credit
3.00

AMA PRA Category 1 Credits™

3.00

AOA Category 2­A

3.00

CE Contact Hour(s)

3.00

CPME