Working with Vision-Impaired Patients
Registration

The cost for this online course is $20. The estimated time to complete this course is 60 minutes. Learners will be asked to complete an activity post-assessment with a passing score of 75%.
You must log in or create an account before enrolling in this educational activity. 
Once you register for the course, you will have 30 days from the date of enrollment to complete the course. The date your access expires will be indicated in the Course Summary box on this webpage.
 
Target Audience
Healthcare professionals.
EDUCATIONAL NEED
According to the CDC's Vision Health Initiative, in 2015, a total of 1.02 million people were blind, and approximately 3.22 million people in the United States had vision impairment (VI), as defined by the best-corrected visual acuity in the better-seeing eye. In addition, 8.2 million people had VI due to uncorrected refractive error. By 2050, these conditions are projected to double to approximately 2.01 million people who are blind or have VI of 20/200 or worse, 6.95 million people with VI, and 16.4 million with VI due to uncorrected refractive error. Vision loss or impairment is among the top 10 disabilities for adults aged 18 and older.
Visual impairment can have adverse consequences for health and well-being. People with visual impairment are likely to have limited access to information and healthcare facilities and to receive sub-optimal treatment because the staff is unaware of specific needs related to vision. Satisfaction with care is associated with improved quality of care and health outcomes. Sensory impairment can be a barrier to effective communication and access to care, resulting in reduced satisfaction and health outcomes for this patient population.
LEARNING OBJECTIVES
Discuss vision screening in the primary care setting.
Recognize the difference between urgent and non-urgent visual complaints.
Identify tools needed for basic ophthalmic evaluations.
Describe barriers faced by individuals losing vision and how these barriers can be overcome. 
Describe the challenges these patients face in medical settings and how to approach patients who are blind or losing vision.
Identify tools and access technology that blind people use to work and live independently.
Speaker(s)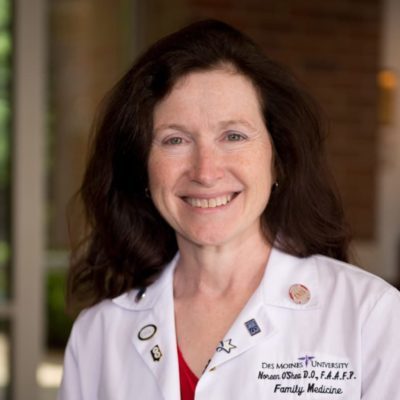 Noreen O'Shea, DO, FAAFP
Assistant Professor, College of Osteopathic Medicine, Des Moines University
Emily Wharton, MFA, CPM
Director of the Iowa Department for the Blind
Ms. Wharton has more than 20 years of experience working with vision-impaired individuals to improve their quality of life, including teaching cane travel, Braille, job-seeking skills, and assistive technology. In 2005, Ms. Wharton completed a Master of Fine Arts degree at Hamline University in St. Paul, MN. She also created a new curriculum for teaching Braille to adults -- the Code Master Adult Braille Learning System -- which won two national awards in 2013, the Dr. Jacob Bolotin Award from the National Federation of the Blind and the Touch of Genius Prize for Innovation from the National Braille Press.
Ms. Wharton has struggled with living successfully as a blind person and has met that challenge, showing others throughout her life that blindness need not stop a person from living a full and productive life. She successfully used the Iowa Department of the Blind's services to achieve her goals and, though she initially viewed the services as provided out of pity, came to understand they are provided to empower. She has committed to providing her positive outlook and can-do attitude to fellow Iowans encountering vision loss.
---
Terms of Use and Privacy Policy
Recording date: February 4, 2021
Date of original release: February 13, 2021
Most recent review/update: February 13, 2021
Termination date: February 12, 2024
Accreditation Statements
MD: This activity has been planned and implemented in accordance with the accreditation requirements and policies of the Iowa Medical Society (IMS). Des Moines University (DMU) is accredited by the IMS to provide continuing medical education for physicians. DMU designates this enduring materials activity for a maximum of 1.0 AMA PRA Category 1 Credit(s)™.  Physicians should only claim credit commensurate with the extent of their participation in the activity.
DO: Des Moines University (DMU) is accredited by the American Osteopathic Association (AOA) to provide osteopathic continuing medical education for physicians. DMU designates this activity for a maximum of 1.0 AOA Category 1-B credits and will report CME and specialty credits commensurate with the extent of the physician's participation in this activity.
DPM: Des Moines University (DMU) is approved by the Council on Podiatric Medical Education as a provider of continuing education in podiatric medicine. DMU has approved this activity for a maximum of 1.0 continuing education contact hours.
Nurse: Des Moines University is Iowa Board of Nursing approved provider #112. This activity has been reviewed and approved for 1.0 continuing education contact hour(s). No partial credit awarded.​
Other Healthcare Professionals: This enduring materials activity is designated for a maximum of 1.0 AMA PRA Category 1 Credit(s)™.
Educational Grants
No ineligible company provided financial support for this continuing education activity. 
DISCLOSURE
The speaker(s) will disclose if any pharmaceuticals, medical procedures, and devices discussed are investigational or unapproved by the U.S. Food and Drug Administration (FDA). The determination of educational content and the selection of speakers is the responsibility of the activity director.
Relevant to the content of this educational activity, the following individual(s) have no financial conflicts with ineligible companies to disclose:
Noreen O'Shea, DO, FAAFP - speaker
Emily Wharton, MFA, CPM - speaker
Disclaimer
The information provided in this activity is for continuing education. It is not meant to substitute for the independent medical judgment of a healthcare provider relative to diagnostic and treatment options of a specific patient's medical condition. The content of each presentation does not necessarily reflect the views of Des Moines University.
Available Credit
1.00

AMA PRA Category 1 Credits™

1.00

AOA Category 1­B

1.00

CE Contact Hour(s)

1.00

CPME

1.00

IBON