Pathogen-Mimicking Nanovaccine Platform Technology: A New Paradigm
Purpose
Mary Greeley Medical Center Grand Rounds is a multi-disciplinary clinical activity which serves to maintain, develop, or increase the knowledge, skills, and professional performance and relationships that a physician uses to provide services for patients, the public or the profession.
Target Audience
Physicians, Advance Practice Professionals, Nurses, Ancillary Staff, Medical Students (Rotating), Non-Medical Students (Rotating), and Healthcare Administrators.
Learning Objectives
Discuss the potential use of nanoparticles as an effective deliver technology for drugs and vaccines.
Describe a new methodology to design influenza vaccines that are broadly protective and can be age specific.
Explain how nanoparticles can help reduce dose of drug/antigen administered and eliminate side effects.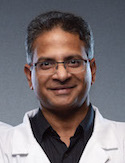 Baalaji Narasimhan, PhD
Director, Nanovaccine Institute and Anson Marston Distinguished Professor & Vlasta Klima Balloun Faculty Chair, Chemical & Biological Engineering,, Iowa State University
Education
Ph.D. Chemical Engineering, Purdue University, 1996
B.S. Chemical Engineering, Indian Institute of Technology, Bombay, 1992
Accreditation Statements
DO: Des Moines University (DMU) is accredited by the American Osteopathic Association to provide osteopathic continuing medical education for physicians. DMU designates this program for a maximum of 1.0 AOA Category 1-B credits and will report CME and specialty credits commensurate with the extent of the physician's participation in this activity.
EDUCATIONAL GRANTS
No ineligible company provided financial support for this continuing education activity.
DISCLOSURES
The speaker(s) will disclose if any pharmaceuticals or medical procedures and devices discussed are investigational or unapproved for use by the U.S. Food and Drug Administration (FDA). Determination of educational content and the selection of speakers is the responsibility of the activity director. 
Relevant to the content of this educational activity, Balaji Narasimhan, PhD - Speaker, discloses that he is co-founder and President of ImmunoNanoMed Inc. and has financial interest in Degimflex LLC, AstraZeneca Pharma, Dr. Reddy's Laboratories, Sanofi India, and Procter and Gamble.
CME Committee
No member of the Mary Greeley Medical Center CME Committee who planned this activity has any financial relationship to disclose relating to the content. 
This program is supported by gifts to the Mary Greeley Medical Center Foundation from Mary Greeley Medical Center, McFarland Clinic, Availa Bank, and Green Hills Health Care Center. The content and selection of speaker(s) is the responsibility of the Mary Greeley Medical Center for Continuing Medical Education Committee and not the sponsors of this program.
DISCLAIMER
The information provided at this activity is for continuing education purposes only and is not meant to substitute for the independent medical judgment of a healthcare provider relative to diagnostic and treatment options of a specific patient's medical condition. The content of each presentation does not necessarily reflect the views of Des Moines University.