Interplay Between Cell-Cell and Cell-Matrix Adhesion Proteins in Tumor Cell Invasion and Metastasis
Registration

There is no cost to attend and registration is not required.
 

Target Audience
Des Moines University faculty, staff, and students.
Objectives
Differentiate between cell-cell and cell-matrix adhesion proteins.
Explain the role of adhesion proteins in tumor cell invasion and metastasis.
Speaker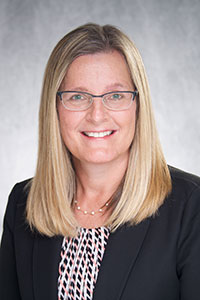 Kris DeMali, PhD
Assistant Professor, Biochemistry, University of Iowa
Cell-cell interactions affect many aspects of cell behavior, including growth, differentiation and the establishment of normal tissue architecture. Loss of expression or function of components present in cell-cell interactions has been found in carcinomas and correlates with poor prognostic outcome in cancer patients. A major focus of the work in my lab is to understand cellular mechanisms involved in assembly and maintenance of cell-cell adhesions by examining the function and regulation of proteins recruited to the cytoplasmic face of cadherins. 
A second focus of our laboratory is to understand how dysfunctional adhesion receptors contribute to tumor cell survival and metastasis.  Melanoma is the only cancer whose incidence and mortality rates are increasing.  Melanoma is an unusually lethal cancer as it metastasizes early and is highly resistant to all standard chemotherapeutic agents. We have identified a novel peptide that targets integrins from within the cell and sensitizes melanomas to chemotherapy.  We are elucidating the novel mechanism of action of this peptide and its potential to be employed to overcome melanoma resistance so that new combinatorial methods for treating melanoma patients can be developed.   
Dr. DeMali indicated no relevant financial relationships to disclose relevant to the content of this CME activity.
Continuing Education Credit
AOA:  Des Moines University and the AOA Council on Continuing Medical Education approve this program for a maximum of 1.0 hour of AOA Category 2-A CME credits.
Other:  Attendees will receive 1.0 hour of continuing education contact hours.
Des Moines University
3200 Grand Avenue
SEC #115
United States
Available Credit
1.00

AOA Category 2­A

1.00

CE Contact Hour(s)