Integrating IPE Across a Large Health Sciences Campus
Registration

There is no cost to attend and registration is not required.
​ 
Series Description
Waves of interest and excitement in Interprofessional Education (IPE) are sweeping across health science schools, accrediting bodies, and national health agencies. In just the past two years in the US, national objectives have been produced and several centers for IPE have been created to assist faculty and practitioners in designing curricular programs and extending the outcomes into interprofessional practice. The Spring IAMSE webcast seminar series brings together a collection of leaders and programs that have implemented successful IPE activities and/or have unique approaches to addressing challenges that IPE may be facing in healthcare delivery.   The series will begin with an overview of IPE trends in health care and a description of strategies to address these issues. Other sessions include descriptions of specific programs that have successfully integrated IPE into large health science campuses, faculty development programs that focus on continuing interprofessional education, and unique barriers to successful implementation of interprofessionalism principles into clinical practice.  This series will extend the IAMSE series from Winter  2012, available on our website, by providing the latest insight into this ever-expanding field of health sciences education and practice.
Webinar Description
During this webinar, the speaker will describe his institution's efforts to integrate interprofessional education across five health science schools. He will review the creation and current organizational structure for the Center for Interprofessional Education and Collaborative Care which he directs, discuss how this center fosters and supports efforts of faculty, staff, and students in interprofessional education and practice, and talk about the evolution of the programs on his campus from extracurricular activities to required interprofessional courses. Finally, he will discuss recent efforts on his campus to create developmental assessments to guide the sequencing of courses and the certification of interprofessional competency in students.
Target Audience
DMU faculty and staff.
Speaker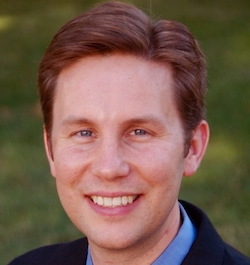 Alan Dow, MD, MSHA
Assistant Vice President of Health Sciences for Interprofessional Education and Collaborative Care at Virginia Commonwealth University.
Dr. Dow directs the Center for Interprofessional Education and Collaborative Care at VCU and is responsible for developing, implementing, and studying initiatives in interprofessional education and collaborative practice across the Schools of Medicine, Nursing, Pharmacy, Dentistry, Allied Health, and Social Work, the VCU Health System, and the surrounding community. He has been supported in this work by funding from the Josiah H. Macy, Jr Foundation as one of the inaugural class of Macy Faculty Scholars, a highly competitive national program focused on developing the next generation of educational leaders. He writes and speaks about the basic science of teamwork in healthcare, educational innovations, and the healthcare workforce and is currently funded by the Health Resources and Services Administration, the Centers for Medicare and Medicaid Services, and the Donald W. Reynolds Foundation. Dr. Dow serves on the editorial board of the Journal of Interprofessional Care and the Journal of Interprofessional Education and Practice as well as the board of the American Interprofessional Health Collaborative. A practicing internist, Alan attended medical school at Washington University and completed residency in internal medicine and a health administration degree at VCU.
Des Moines University
3200 Grand Avenue
Ryan Hall 181
United States