The Imperative for Incorporating Mind-Body Medicine in Health Professions Education
Registration

Open to DMU faculty and staff only. There is no cost to attend and registration is not required.
​ 
Series Description
Creating a Culture of Well-Being at an Academic Health Center
Reports from various sources indicate that chronic stress and burnout is prevalent in the health professions, affecting over half of primary care practitioners and even more in several specialties. This trend may begin earlier with the observed decline in empathy during medical student and residency training and the alarming rates of burnout in medical and other students in the health professions. 
As educators, administrators and academic health leaders grapple with developing interventions to address these issues, evidence is emerging that programs aimed at fostering resilience and stress reduction such as mindfulness, reflective capacity and appreciate inquiry, also lead to increased empathy and improved well being. Furthermore, the AAMC, ACGME and other national organizations are working to improve the learning environment and facilitate the creation of a culture of well-being at academic health centers. 
The IAMSE 2017 Winter Web Seminar Series has an impressive panel of leaders who will share their expertise on trainee stress and burnout and curricular interventions that have been shown to address these issues. The series is designed to help faculty, course directors and administrators understand the issues and hear about successful approaches and innovations to improve the health and well-being of students, residents and faculty. We hope that this series will bring these serious issues to your awareness and provide you with possible solutions and ideas on how to move forward at your institution.
Webinar Description
More than half of practicing physicians exhibit characteristics of chronic stress and burnout. This trend may begin earlier with the observed decline in empathy during medical student training and alarming rates of burnout in medical and other students in the health professions. In this presentation, Dr. Haramati will review published outcomes on curricular interventions to help students and faculty manage stress, foster empathy and build resilience. He will also share his perspective on why it is essential to incorporate mind-body techniques into the training curriculum for all health professionals – something that will require both skill and courage.
Speaker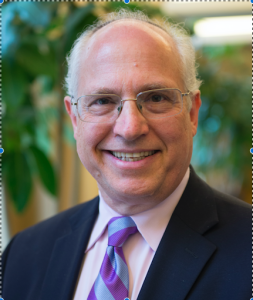 Aviad (Adi) Haramati is Professor of Integrative Physiology of the Department of Biochemistry, Molecular & Cellular Biology and the Department of Medicine (Nephrology) at Georgetown University School of Medicine. A graduate of Brooklyn College, he received a PhD in Physiology (University of Cincinnati) and came to Georgetown in 1985 after spending 5 years at Mayo Clinic. For over 25 years, Dr. Haramati's research focus was on regulation of kidney and electrolyte physiology during growth and in states such as heart failure. For the past decade, his activities have centered on medical education and rethinking how health professionals are trained. In April 2013, he was named the inaugural director of the Center for Innovation and Leadership in Education (CENTILE) at Georgetown University Medical Center (GUMC). 
Dr. Haramati has taught medical and graduate students for over 35 years and has been recognized with numerous awards: at Mayo Clinic and at Georgetown University where he has received 9 Golden Apple awards from medical and graduate students. In 1997, he was awarded the Kaiser-Permanente Excellence in Teaching of the Basic Sciences, and in 2000 was the eighth recipient of the Arthur C. Guyton Teacher of the Year award by the American Physiological Society. In 2002, he received the Alpha Omega Alpha Robert J. Glaser Distinguished Teaching Award from the Association of American Medical Colleges. In 2004, he was selected by faculty and alumni for induction into the Magis Society of Master Teachers at Georgetown. In 2010, he was awarded the Master Scholar Award from the International Association of Medical Science Educators (IAMSE). 
Dr. Haramati chaired the Faculty Senate at GUMC (2001-2005) and chaired the institution's strategic planning committees. He taught at the Harvard-Macy Course for Leaders in Medical Education (2001-2006) and served on the Physiology Test Development Committee (USMLE Step1) for the National Board of Medical Examiners. He is past-president of IAMSE, past Vice-Chair of the Academic Consortium for Integrative Medicine and Health, a member of the Council of Faculty & Academic Societies (AAMC), chaired the organizing committee for the International Research Congress on Integrative Medicine & Health, (2009, 2012 and 2014) and the International Congress for Educators in Complementary and Integrative Medicine held in 2012 in Washington, DC. In October 2015, he hosted the International Conference to Promote Resilience, Empathy and Well-being in the Health Professions: An Inter-professional Forum at Georgetown University, co-sponsored by CENTILE, MedStar Health and 6 academic institutions. 
Dr. Haramati led a broad NIH-funded educational initiative aimed at incorporating complementary, alternative (CAM) and integrative medicine into the medical curriculum at Georgetown, and currently co-directs the Physiology—CAM graduate program. Dr. Haramati has a deep interest to improve health professions education across the globe, especially with regard to the intersection of science, mind-body medicine and professionalism. He has been a Visiting Professor at over 80 medical schools around the world and currently works with a number of medical school deans and educators in North and South America, Europe and Israel. 
Des Moines University
3200 Grand Avenue
Ryan Hall 181
United States