IACUC 101 presents a comprehensive overview of the laws, regulations and policies that govern the humane care and use of research animals. Didactic sessions, supplemented with examples and approches for successful and effective program implementation and administration, are followed by an opportunity to deliberate several challenging IACUC scenarios using information presented during the didactic sessions. Students receive an extensive Resource Manual and CD specifically prepared for their IACUC 101 program.
Target Audience
Des Moines University faculty and staff.
Agenda
| | |
| --- | --- |
| 7:30 am | Registration and Breakfast |
| 8:15 am | Introduction |
| 8:30 am | Historical Perspectives |
| 9:15 am | Key Components |
| 9:55 am | Break |
| 10:10 am | IACUC Functions |
| 10:50 am | Personnel Qualifications & Training |
| 11:30 am | Lunch |
| 12:30 pm | Written Question and Answer Session – AAALAC, OLAW, USDA |
| 12:45 pm | Program Evaluations and Inspections |
| 1:40 pm | Protocol Review |
| 2:35 pm | Break |
| 2:50 pm | Scenario Shorts - IACUC Deliberations - Students, Faculty, Mentors |
| 3:40 pm | Scenario Responses – AAALAC, OLAW, USDA |
| 4:30 pm | Question and Answer Session |
| 5 pm | Adjourn |
Speakers
Jerry Collins, PhD, Yale University
Cynthia S. Gillett, DVM, ACLAM, CPIA, University of Minnesota
Molly Greene, BA, CPIA, Michigan State University
Mary Lou James, BA, LATg, CPIA, Regulatory Compliance Research Animal Welfare
Monte Matthews, BA, CPIA, University of Oregon
Marky Pitts, CPIA, IACUC Advisor
Ernest D. Prentice, PhD, University of Nebraska Medical Center
Katherine Ziegerer, DVM, USDA Animal Care
Axel Wolff, MS, DVM, NIH OLAW
Robert Stephen Dixon, DVM, MS, AAALAC
Continuing Education Credit
AAVSB RACE Approved. IACUC 101 meets the requirements for 6.5 hours of continuing education credit in jurisdictions which recognize AAVSB RACE approval; however participants should be aware that some boards have limitations on the number of hours accepted in certain categories and/or restrictions on certain methods of delivery of continuing education. IACUC 101™ Series, St. Louis, MO: RACE Provider #556; Program No. 556-7010; Subject Matter Category: Legal; Delivery: Seminar/Lecture.
Funding for this conference was made possible in part by the Office of Laboratory Animal Welfare, NIH. The views expressed in written conference materials or publications and by speakers and moderators do not necessarily reflect the official policies of the Department of HHS; nor does mention of trade names, commercial practices, or organizations imply endorsement by the U.S. government.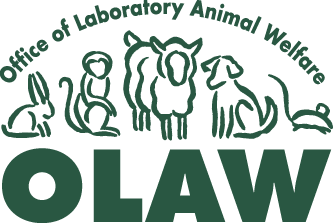 Des Moines University
Olsen Medical Education Center
3200 Grand Avenue
United States