Hearing Loss: Diagnosis & Treatment
Mary Greeley Medical Center Grand Rounds is a multi-disciplinary clinical activity which serves to maintain, develop, or increase the knowledge, skills, and professional performance and relationships that a physician uses to provide services for patients, the public or the profession.  
Target Audience
Physicians, mid-level providers, nurses and healthcare administrators.
Learning Objectives
Understand methods to evaluate hearing loss.
Formulate a differential diagnosis for conductive & sensorineural hearing loss.
Describe aural rehabilitation options encluding for those with severe hearing loss.
Speaker(s)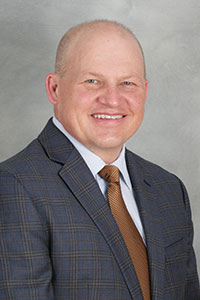 Marlan Hansen, MD
Otolaryngology - Head & Neck Surgery
University of Iowa Hospitals & Clinics
Biography
Disclosures
Speaker(s)
Dr. Hansen indicates he has nothing to disclose regarding financial relationships with any commercial entities, commercial companies providing support for this program, or any commercial manufacturers of products and/ or the providers of services discussed in this presentation.
CME Committee
Dr. Brenda Burrough discloses she is a principal investigator in an Amgen research trial.
Dr. Jay Brown indicates he is an investigator for AstraZeneca.
No members of the Mary Greeley Medical Center CME Committee who planned this activity, including Drs. Burrough & Brown, have any financial relationship to disclose relating to the content. 
The content and selection of speaker(s) is the responsibility of the Mary Greeley Medical Center for Continuing Medical Education Committee.
Continuing Education Credit
DO: Des Moines University is accredited by the American Osteopathic Association (AOA) and approves this live activity for 0.5 AOA Category 2-A CME credit(s).
Mary Greeley Medical Center
Bessie Myers Auditorium
1111 Duff Avenue
United States