Elucidating the Mechanism of Neutrophil Apoptosis Inhibition by Francisella Tularensis
Registration

There is not a cost to view this online activity. This presentation is part of the Friday Research Seminar Series and was recorded LIVE on December 1, 2017 and is approximately 60 minutes. 
You must login or create an account before enrolling in this educational activity. 
Once you're logged in, please click on the "ENTER" button in the Course Summary box to your right. Your attendance will then be confirmed. 
Once you register for the course, you will have 180 days (approximately 6 months) from the date of enrollment to complete the course. The exact date that your access expires will be indicated within the Course Summary box on this webpage.
 
Target Audience
Health professionals.
Speaker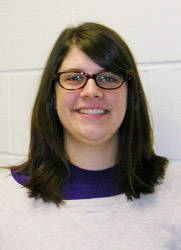 Laren Kinhead, PhD
Department of Microbiology and Immunology, University of Iowa
Francisella tularensis is a Gram-negative, facultative intracellular organism and the etiologic agent of the disease tularemia. The pathogenicity of F. tularensis is dependent on its ability to modulate the host immune responses, and survive and replicate within host cells. F. tularensis infects many cell types, including polymorphonuclear leukocytes (PMN; neutrophils). Neutrophils are an important component of the innate immune system as they are the most abundant leukocyte in circulation and are the first to arrive at the site of infection. Neutrophils are short-lived cells as they undergo constitutive, spontaneous apoptosis. Some intracellular pathogens, including Neisseria gonorrhoeae and Chlamydia pneumoniae, inhibit neutrophil apoptosis to allow for intracellular survival and growth. Our lab recently demonstrated that F. tularensis prolongs human neutrophil lifespan by inhibiting the major apoptotic pathways. The factors that function in prolonging neutrophil lifespan remain undefined. In addition, direct contact between F. tularensis and neutrophils is not essential for the survival of infected neutrophils suggesting that a secreted bacterial factor may contribute to this effect. The primary goal of my research is to identify the factor(s) responsible for prolonging human neutrophil lifespan following infection with F. tularensis and further characterize the mechanism by which this prolongation occurs to gain insight into the mechanism(s) by which F. tularensis manipulates the host immune response in order to cause disease.
---
Terms of Use and Privacy Policy
Date of original release: December 2, 2017
Most recent review/update: December 2, 2017
Termination date: December 1, 2020