APTA Clinical Instructor Education and Credentialing Program
July 14, 2014

to

July 15, 2014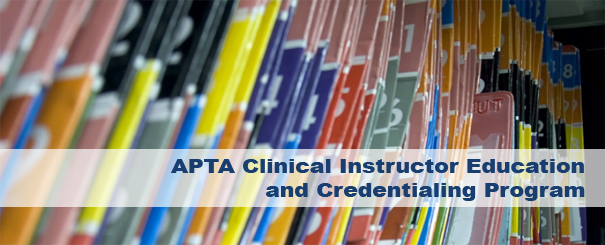 Purpose
The Iowa Clinical Education Consortium presents the APTA basic and advanced courses which will assist participants in developing and refining abilities to guide student development in a clinical environment.
Target Audience
Basic: Physical therapists, physical therapist assistants, occupational therapists, certified occupational therapist assistants, speech language pathologists, recreational therapists, and other health care professionals.
Advanced: Physical therapists who are APTA Credentialed Clinical Instructors and who have supervised at least one student since completing the basic education and credentialing program are eligible to register for this program.
Course Description
Both courses run concurrently.
Basic:

This course addresses planning and implementing clinical education experiences for physical therapy and other students in the health care profession. The program is divided into two parts:  (1) clinical instructor education for all participants and (2) credentialing for PT/PTAs in the course through Assessment Centers.

Advanced: The Advanced Credentialed Clinical Instructor Program brings two constructs together in one professional development program that advances both clinical teaching and best practice when providing student clinical education.  Using a case-based and interactive approach to education, this program provides participants with the essential knowledge and skill to more effectively teach and mentor students in the context of a doctoring profession. Through the program's unique philosophy and design, best outcomes will be achieved for student learning by concurrently advancing concepts of clinical teaching and clinical practice. 
Schedule
Basic:
7:30 am - Registration/Check-In and Breakfast
8 am - 5 pm - Coursework
Advanced:


7:30 am - Registration/Check-In and Breakfast




7:45 am - 5:30 pm - Coursework
Objectives
Basic:

Planning and preparing for students during their clinical education experiences
Developing learning experiences in practice tailored to meet specific student needs
Supporting ongoing learning through questions and effective feedback
Identifying and managing students with difficult and/or exceptional situations
Identifying legal, legislative, and regulatory implications for clinical educators, including issues presented by ADA, HIPAA, and Medicare

Advanced: 

Teach using pedagogical methods that enable learners with patients/clients to integrate more complex concepts by demonstrating:

Consistent application of professional standards and regulations
Autonomous practice, professionalism, EBP, and elements of Vision 2020 and the NEW APTA Vision
Correct use of the patient/client management model
Clinical decision making
The importance of lifelong learning through an individual professional development plan
Professional communication, including documentation
CIs will be more effective, efficient practitioners and clinical instructors by:
Advancing clinical teaching concepts learned in Credentialed Clinical Instructor Program (Level I)
Synthesizing information from APTA, FSBPT, CAPTE, and State and Federal regulations
Modeling, integrating, and promoting behaviors congruent with and reflective of Vision 2020, the NEW APTA Vision and the APTA Core Values
Achieving successful patient/client and student outcomes through use of best practice information
Living the philosophy of lifelong learning
Presenters
All presenters are trainers for the basic and/or advanced APTA Credentialed Clinical Instructor Programs.  
Lynn Frank, PT, MPT, NCS is the ACCE in the DPT Program at St. Ambrose University and a member of the Iowa Clinical Education Consortium.  Lynn served as the CCCE at Genesis Medical Center in Davenport, Iowa, for six years prior to her appointment at the University in 2000.  Lynn has been practicing physical therapy since 1987.
Laurie Kontney, PT, DPT, MS has been a Director of Clinical Education at Marquette University since 1994.  Laurie has been an active member of the Wisconsin Clinical Education Consortium (WCEC) since its inception in 1986 and has been involved in the development and instruction of clinical instructor workshops since 1987.  Laurie is also the Chair of the Program Committee for the Education Section of the APTA and has been involved in developing and conducting programming for clinical educators throughout the country.
April DS Newton, PT, DPT is the DCE in the Physical Therapy Program at Des Moines University. April served as Therapy Education Coordinator and CCCE at Iowa Health – Des Moines, Iowa, prior to joining the DMU faculty in 2006. April has been practicing physical therapy in a variety of settings since 1996.
Kelly Sass, PT, MPT is the Assistant ACCE at the University of Iowa Graduate Program in Physical Therapy and Rehabilitation Science.  Kelly served as a Clinical Instructor at St. Luke's Hospital in Cedar Rapids, Iowa, prior to joining the University of Iowa faculty in 1997.  Kelly has been practicing physical therapy since 1993 and is currently pursuing a PhD in Educational Psychology.
Alecia Thiele, PT, DPT, MSEd, ATC is the ACCE in the DPT Program at Clarke University.  She has been in this position since 1999, and also served as Assistant ACCE at the University in 1997.  She is a member of the Iowa Clinical Education Consortium.  Alecia has also served as the CCCE at Medical Associates Clinic in Dubuque, Iowa, since 1993.  Alecia has been practicing physical therapy since 1991 and athletic training since 1994.
Pre-Course Assignments
Basic: None.
Advanced: Three weeks prior to the course, you will be sent an electronic list of pre-course assignments to be completed prior to the activity. 

Des Moines University
3200 Grand Avenue
Munroe Building
United States
CE Credit
All participants must attend each session in its entirety and complete the Assessment Centers to be eligible for APTA CI credentialing.
Basic: The workshop is offered for 15 contact hours, which may be applied toward relicensure requirements for physical therapists. 
Advanced: The workshop is offered for 16 contact hours, which may be applied toward relicensure requirements for physical therapists.