Age-Friendly Greater Des Moines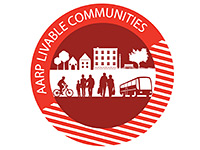 Join AARP and the volunteer and community leaders of the Greater Des Moines Age-Friendly Initiative for the fourth annual report to the community, featuring special guest Daniel Parolek.
A national thought leader in architecture, design, and urban planning, Mr. Parolek will speak on the concept of Missing Middle Housing. He'll address how these types of developments are helping to meet the growing demand for age-friendly housing and walkable urban living.

Featured Speaker
Daniel Parolek, AIA
Principal, Opticos Design
Daniel Parolek is a nationally recognized thought leader in architecture, design, and urban planning, specifically in terms of creating livable, sustainable communities and buildings that reinforce them. Since establishing himself early in his career as an expert in these fields, he has won national competitions and awards for his work and is often asked to contribute to publications and resources. Daniel has a unique talent for quickly assessing places and understanding what's needed to make them better, and for understanding what drawing or set of drawings are needed to clearly and evocatively convey a design solution. He has helped found several non-profit planning and architecture organizations, he regularly speaks at national conferences, and his projects have been featured in numerous publications. His strong interest in diverse building types, at different scales that bridge architecture and urban planning, drove his desire to start Opticos in 2000—and he continues to create buildings and neighborhoods that can be future models to inspire and guide others.

Over the years, he has become one of the leading practitioners of Form-Based Coding, a revolutionary new approach to zoning about which he co-wrote what's been called "the definitive handbook," and he is a founding board member of the Form-Based Codes Institute. With a strong commitment to sharing knowledge, he has taught several hundred advanced-level students through the Form-Based Codes Institute's ongoing courses, and regularly teaches workshops on New Urbanism and Smart Growth, Missing Middle Housing, Coding, and Urban Living.
His love of good design and great places came from a childhood spent roaming the small town of Columbus, Nebraska, on his bike—and much of his current work is inspired by his memories of growing up in a place with a thriving main street and local businesses. After receiving a classical architectural education that emphasized visual harmony and contextual architecture, Dan worked in New York with the renowned architect Robert A.M. Stern where he became experienced at all scales of projects, from the smallest (private homes for Michael Eisner and Jon Bon Jovi) to mid-level (a federal courthouse in West Virginia and the renovation of Anaheim's baseball stadium) to large (an entertainment complex at Tokyo Disney). He has worked alongside other leading architects and urbanists, such as Leon Krier, Elizabeth Plater-Zyberk, and Peter Katz.
When he's not in the office, Dan can be found exploring urban places on foot or bike, enjoying locally crafted beers, or chasing his kids at the playground.
Sponsors
Des Moines University
3200 Grand Avenue
Olsen Center
United States