PNF I: Proprioceptive Neuromuscular Facilitation I
September 23, 2016

to

September 25, 2016
Prerequisites
None
Required Course Preparation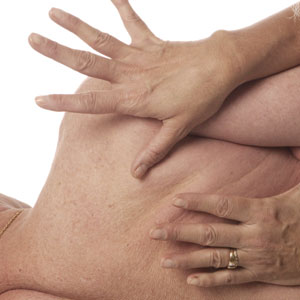 Prior to the classroom portion of this course, all students must complete required course preparation.  The preparation for PNFI includes videos, quizzes, and articles.  Plan to spend approximately 4 hours learning this important information.  Once enrolled in a course, required course preparation can be found by logging on to your IPA account and selecting "My Upcoming Courses."  If you have any trouble accessing the required course preparation please call our office at 970-870-9521 for assistance. Also, please note that approved CEUs may vary depending on individual states' treatment of Online vs. Classroom Instruction.
Required Equipment
Print the Video Handout Reference from the precourse work to add to your course manual if desired.  The precourse Video Handout Reference makes up pages 8-21 of the PNFI manual, and can be inserted into the manual you receive when you arrive at the course.
Purpose
To effectively treat as a Functional Manual TherapistTM, one must address the interrelationship between the neuromuscular, soft tissue, and articular systems. PNF I offers a dynamic and functional evaluation and treatment approach to this interrelationship based on specific analysis of motor recruitment patterns and Characteristics of Neuromuscular Function. This course progresses from specific shoulder girdle, pelvic girdle, and trunk patterns to weight bearing postures and movements. Content emphasizes the establishment of efficient motor recruitment patterns for rehabilitation of neurological and orthopedic patients and post manipulative techniques. The material in this course is directly related to current neurophysiology of muscle function and motor control.
Objectives
Develop manual skills to improve cervical, upper extremity, and trunk function with PNF scapula patterns.
Develop manual skills to improve lumbar, pelvic, and lower extremity function utilizing PNF pelvic patterns.To train the participant to utilize manual facilitation to enhance the patient's proprioceptive awareness, neuromuscular response for initiation, strength, and endurance, and to facilitate motor learning.
Become proficient at using the technique Tonic Spread to effectively facilitate Automatic Core Engagement (ACE) of the trunk and interconnecting segments. To develop a comprehensive understanding of the role of PNF as an inherent component of Functional MobilizationTM and motor control rehabilitation.
Apply the principles of PNF to effectively facilitate CoreFirst™ strategies for efficient motor control in bed mobility, hook lying, sitting, and gait.
Agenda
Prior to Start of the Course
Complete the required interactive online module. 
Friday 8:00 AM – 8:30 AM
Check-in. 
Friday 8:30 AM – 6:30 PM 
Movement Assessment and Reeducation of the trunk scapula & pelvis patterns, and treatment techniques to address specific dysfunction, mass & reciprocal trunk patterns). 
Saturday 8:30 AM – 6:30 PM 
Continue to explore Characteristics of Neuromuscular Control in various postures and positions such as sidelying, on elbows, hook-lying, and quadruped. 
Sunday 8:00 AM – 3:00 PM 
Sitting and Gait Assessment and Reeducation.
Instructors
Seth Blee, DPT, CFMT
Seth Blee completed the FOC certification in 2005 and then completed CFMT in 2006. He bgan teaching with the IPA in 2006 and is now a primary faculty member for the BET and PNF 1 courses.
Seth graduated from Boston College's pre-medical program with a BS in philosophy. He then went on to physical therapy school and graduated with honors from Columbia University in New York with a Masters of Science in Physical Therapy. Since graduating, Seth has worked with several different patient populations, but has focused the majority of his time in orthopedics. He has completed extensive continuing education coursework and training and has received the Functional Orthopedic Certification from the Institute of Physical Art in 2005. He then went on to complete the Certification in Functional Manual Therapy from the IPA in 2006. He has done guest lecturing in orthopedics, joint mobilizations, and PNF techniques at local universities. Beginning in 2008, he became an adjunct faculty member in Marymount University's Physical Therapy Program. Seth also completed his transitional Doctorate in Physical Therapy in March, 2009. He currently runs one of the IPA's manual therapy residency sites in Alexandria, Virginia.
Seth lives in northern Virginia with his wife Helen and 2 children. He spends a lot of his free time coaching Little League Baseball and playing sports and games with both children.
Ann Kaminski, MPT, CFMT, OCS
Ann graduated from University of Wisconsin- Madison in 2001 with a Masters of PT. She then got her CFMT in 2009. She has been helping teach PNF since 2009 with the IPA. She also is a Orthopedic Certified Specialist through the APTA.
Instructor Note
The instructor advertised for the course is the intended primary instructor. Every effort is made to hold the course with the scheduled instructor. Course refunds or transfers will not be granted based on a change of instructor. Please note there may be a change of instructor(s) without prior notice. Multiple instructors are scheduled for each course. However, the actual number of instructors at a course will be determined by final enrollment.
Hours
3 Days, 24-28 Hours (Approved CEUs vary by state.)
Note: PNF I requires students to complete online videos before attending the classroom instruction. Approved CEUs for this course may vary depending on individual states' treatment of Online vs. Classroom Instruction. Before registering for a course you should verify approved CEUs with your state licensing board or association. State rules are subject to change. IPA courses are approved for the state in which the course is held.
Breaks 
No food will be provided during PNFI courses.  You are welcome to bring your own snacks if desired.
Audience
PT, PTA, OT. OTAs may attend with supervising PT or OT. 
Each student is expected to complete required reading and video reviews prior to the classroom instruction and attend all hours of classroom instruction to receive a certificate of completion. Any exceptions to this policy must be pre-approved in writing by the Directors.
Lab Clothing 
Wear comfortable clothing for lectures and sitting labs.  Participants' bodies must be accessible for observation and treatment. Please refrain from wearing large or sharp jewelry. Because there is a great deal of kneeling during this course, you may want to bring knee pads. Also, please bring proper shoes for Sunday's Gait lab. 
Women: Sports top or loose fitting shirt so scapula is accessible, and shorts with loose waist. 
Men: Shorts or swim trunks with loose waist. 
ALL:  Warm-up suites or other clothing worn over the above described attire is advised to ensure comfort between demonstrations as temperatures in the room may vary.
Course Preparation
This 3 day workshop is quite demanding and intense.  Please come prepared and rested.  Review the basic anatomy of the scapula and pelvis muscles and joints.  This knowledge will serve as an important foundation for the principles and procedures taught. Be sure to complete the required course preparation listed above.
Recommended Reading
PNF in Practice, Adler, Susan, Beckers, Dominiek, and Buck, Math. 3rd Ed., NY: Springer Verlag, 2008.  Available at http://Amazon.com or http://www.springer.com, phone 800-777-4643, fax 201-348-4505, email: service-ny@springer.com.

Any current literature on motor training.
Questions
The Institute of Physical Art, Inc.
43449 Elk Run
Steamboat Springs, CO 80487
970 870-9521
info@instituteofphysicalart.com
Des Moines University
3200 Grand Avenue
Academic Center 215
United States