NAMI Iowa's Annual Conference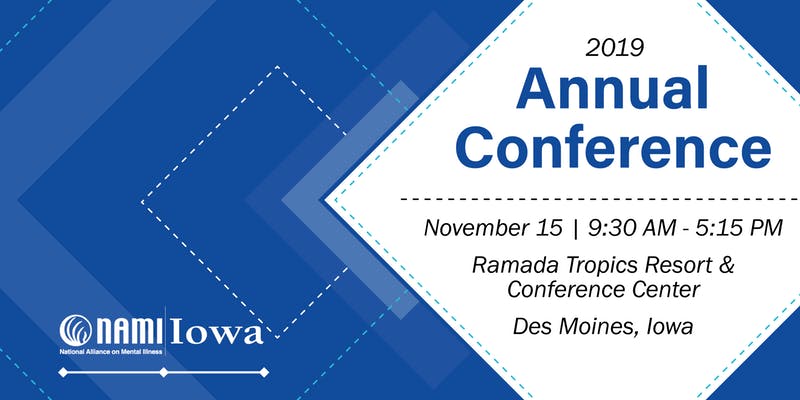 Target Audience
Healthcare providers who work in mental / behavioral health. 
Purpose
The NAMI Iowa Annual Conference aims to bring together Iowa providers, healthcare and social service professionals, advocates, peers, and interested family members for education on organizational leadership, cultural competency and diversity in health care, and new and emerging treatments and practices to treat mental illness in health care settings, as well as the evidence-based practices of peer support and family-based mutual support and psychoeducation. 
Educational Need
According to a 2016 New American Economy study on the shortage of psychiatrists in the United States, nearly 60% of all counties in the U.S. have zero practicing psychiatrists. This figure climbs to 80% in rural counties. At that time, 8.7% of the U.S. population resided in rural counties, however rural counties were served by only 1.6% of practicing psychiatrists. The result is that on average, there are almost 47,000 rural residents per rural psychiatrist.1 This is especially pertinent in Iowa, where 78 out of 99 counties are rural,1 and all metropolitan areas are under 250,000 population.  
With the U.S. shortage of psychiatrists expected to continue through 2020, other providers are left picking up the bulk of behavioral health prescribing as well as care coordination in Iowa, especially in rural areas.  These include family practitioners, palliative care clinics, and emergency departments.  Additionally, other specialties including oncology and pain management are beginning to recognize the benefits of addressing behavioral health and the impact it has on patient outcomes. Many clinics provide depression screenings, but lack the training to make appropriate referrals or address the social determinants and behaviors caused by mental illness. 
In order for treatment reach its full potential at both the individual and population levels, both a knowledge of new and emerging treatments for difficult/resistant disorders and a population health management and care coordination approach are required to reach maximum effectiveness.  Person-centered treatment planning acknowledges the intersection of personal identities, circumstances, social determinants and systems in place contributing to individual and population health outcomes.  Since 2014, Iowa has become a health home state, delivering person-centered treatment planning and care coordination through Chronic Condition Health Homes (physical illness only), or Integrated Health Homes (behavioral plus physical health care coordination).  This model also places greater focus on early intervention and collaborative care, including the natural support system of the person living with mental illness. However, this model of care is still not widely known among providers, social workers, and family members outside those clinics and individuals receiving this type of care.   
Objectives
Create and implement a patient-centered treatment plan that takes into account intersecting/diverse identities, trauma history of the individual, and the role of the family and peers in self-advocacy.
List risks and benefits of new treatments in practice and on the horizon for treatment-resistant depression.
Recognize the role that law enforcement plays in the health and social outcomes of people with mental illness and identify strategies for co-advocating with law enforcement in the healthcare setting and the community.
Identify areas of early intervention for adolescents and adults that collaborate directly with the person and their natural support systems.
Agenda
8:30 am
Registration
9:20 am
Welcome and Introduction
Peggy Huppert, NAMI Iowa Executive Director
9:30 am
NAMI Programs: How to Avoid Burnout and Remain Effective
Suzanne Robinson, Assistant Director, National Education Programs, NAMI
10:30 am
Panel on Law Enforcement's Role in Mental Health and Co-Advocacy
Michael Newton, Chief of Police, Iowa State University Department of Public Safety
Judy Bradshaw, Director, Iowa Law Enforcement Academy
Tony Thompson, Sheriff, Blackhawk County
11:30 am
Lunch
12:15 pm
Future of ACES and Trauma-Informed Care in Primary Care
Amy Shriver, MD, FAAP, Pediatrician, UnityPoint Health – Blank Children's Pediatric Clinic
1 pm
Break
1:20 pm
Breakout Session 1
 
Organizational Leadership 
New and Innovative Treatments
Serving All Iowans
 
Strategic Communication: Telling Your Story with Impact - Part 1
Lynn Hicks, Communications Director, Iowa Attorney General's Office
Latest Trends and Treatments at the University of Iowa Mood Disorder Clinic
Amanda Heeren, LMSW, Program Director, University of Iowa Mood Disorder Clinic
Ending the Silence: A Mental Health Awareness Program for Youth
Connie Grunder and Gina Skinner-Thebo
2:05 pm
Break
2:20 pm
Breakout Session 2
 
Organizational Leadership 
New and Innovative Treatments
Serving All Iowans
 
Strategic Communication: Telling Your Story with Impact - Part 2
Lynn Hicks, Communications Director, Iowa Attorney General's Office
Success of Transcranial Magnetic Stimulation in Treatment-Resistant Depression
Eric Barlow, MD, Medical Director, Compass Clinical Associates
Intersectionality and Identity in Mental Health Treatment
Buffy Jamison, MA, Program Coordinator and Healthcare Liason, OneIowa
3:05 pm
Break
 
Breakout Session 3
 
Organizational Leadership 
New and Innovative Treatments
Serving All Iowans
 
Nonprofit Board Building and Transformational Governance
Renee Hardman, CEO, Big Brothers Big Sisters of Central Iowa
Panel on NAMI Provider Education in the Des Moines University School of Osteopathic Medicine
Lisa Streyffeler, PhD, Chair and Assistant Professor, Behavioral Medicine, Medical Humanities and Bioethics, Des Moines University
Dawn Grittmann, NAMI Provider Education Instructor
Marty Parrish, NAMI Provider Education Instructor
Serving Survivors of Sexual Violence with Mental Illness
Nadia La Fontant, Underserved Advocacy & Training Specialist, Iowa Coalition Against Sexual Assault
Heather Strachan, Grants Administrator, NAMI Iowa
4:05 pm
Break
4:10 pm
Hope & Healing: My Journey with Mental Health 
Lyndsey Fennelly, Owner, LyndsHoops & CampusCycle
5:10 pm
Closing Remarks and Exhibitor Raffle Drawing
5:15 pm
Adjourn
Ramada Tropics Resort / Conference Center Des Moines
5000 Merle Hay Road
United States
Travel
Hotels
Hotel rooms at the Ramada Tropics Resort cost $119 per night. There are a number of hotels less than a mile from the Ramada with cheaper rates:
Quality Inn, 4995 Merle Hay Road, $73 per night. Call 515-278-2381 to reserve.
Days Inn, 4845 Merle Hay Road, $81 per night. Call 515-278-5511 to reserve.
Econo Lodge, 4755 Merle Hay Road, $60 per night. Call 515-278-8858 to reserve.
Super 8, 5900 Sutton Place, $65 per night. Call 515-270-1037 to reserve.
Mileage Reimbursement
Carpool to save money! NAMI Iowa will pay your mileage if:
You have at least 4 people in your car.
Drive 60 or more miles to the event.
Just tell us who was in your car, where you came from and your total mileage. We will reimburse up to $100 per car.
Suzanne Robinson serves as the Assistant Director of National Education Programs responsible for curriculum development and supervision of Program Managers. NAMI Homefront, released in April of 2014, was co-developed by Suzanne and Dr. Teri Brister. Suzanne developed the NAMI Family & Friends Seminar in 2017. She is currently working on the revision of the NAMI Family-to-Family program set for release in 2020. Prior to coming to NAMI in 2013, Suzanne served as Director of Programs for NAMI Ohio for fourteen years. She worked previously as a Senior Program Director for student volunteer programs at the University of Minnesota YMCA in Minneapolis and as Program Coordinator for AmeriCorps National Service in St. Louis, Missouri. Suzanne has done extensive emergency response work through the American Red Cross and the Missouri Emergency Management Agency. She has worked in outdoor and experiential education as well as service learning and is a seasoned trainer and presenter. Suzanne received her bachelor's degree in history from Washington University in St. Louis and her MSW in Administration and Policy from Ohio State University.
Chief Michael Newton currently leads the Iowa State University (ISU) Department of Public Safety, which includes the police department, parking division and risk management. Michael leads a team of over 60 professional staff members and over 50 student staff. Prior to coming to ISU, he led the University of Wisconsin – Madison Police Department's Field Services Division. Michael has a strong work ethic and is dedicated to making improvements within the agency and community. He has extensive experience working on crowd management issues in areas of special events and protests. Michael is currently on the board of directors for NAMI Iowa. NAMI Wisconsin awarded Michael Crisis Intervention Team (CIT) Officer of the year in 2016. NAMI Dane County recognized him as CIT officer of the year in 2017. He has an associate's degree and a certificate in psychology from North Central Technical College in Wausau, Wisconsin. He has a bachelor's degree from Mount Senario College in Lady Smith, Wisconsin, and a master's degree from the University of Louisville in Louisville, Kentucky. Michael has his Ph.D. from Northcentral University in Prescott Valley, Arizona. Michael is also a graduate of the Southern Police Institutes' 113th Administrative Officers Course.
Judy Bradshaw began her law enforcement career as a Cadet for the Des Moines Police Department in 1980 moving forward to become the first woman Lieutenant, Captain, Major, and Chief of Police in 2007. In the 7 years she served as Chief, she developed numerous community programs for high-risk youth, and created the department's Ambassador Program. She retired to move on to become the Assistant Director of the Iowa Law Enforcement Academy in 2014. Governor Branstad appointed her as Director of the Academy in July of 2015. Under Director Bradshaw's administration, she and her management team have expanded and revised the training curriculum to embrace the concepts of training officers to focus on ethics, integrity, and honor as they begin and move through their careers, and to continue to provide effective training of law enforcement personnel across the state of Iowa.
Sheriff Tony Thompson took office January 1, 2009, was re-elected in November of 2012 with nearly 70% of the vote, and ran unopposed in 2016. He joined the US Army as a military police officer in December of 1988 and retired from the Iowa Army National Guard with just over 21 years following his election as Sheriff. His career with the Black Hawk County Sheriff's Office began in March of 1994 and he has worked in the Jail, Special Services and Patrol Divisions. His prior assignments include: Drug Education Officer, Community Services Coordinator, Computer Crimes Investigator, Patrol Officer, Public Information Officer, and SWAT Team leader prior to taking command of the Black Hawk County Sheriff's Office. He lives with his family on a hobby farm in rural Cedar Falls.
Amy Shriver, MD, FAAP, is an Adjunct Professor of Pediatrics at Des Moines University and the University of Iowa Carver College of Medicine Department of Pediatrics. Dr. Shriver is a primary care pediatrician serving a high-risk population. Her primary focus is on improved screening, early identification and referrals for toxic stress and unmet social needs for pediatric patients and families. She believes that primary care providers serve as the gateway to reaching families and effectively addressing need through care coordination and connections to community services. Dr. Shriver is a consultant for the Central Iowa ACES 360 Pediatric Project, which develops training modules and provides technical assistance and a framework for infusing trauma-informed care policies and practices into primary care clinics across Iowa.
Connie Grunder became involved with NAMI when she attended a NAMI Family-to-Family class after her son was diagnosed with Bipolar 1. The class lead her to want to end the stigma on mental illness. Connie is trained in Ending the Silence presentation for students, families and administration. She has been a presenter for over 2 years and now is the Ending the Silence coordinator for NAMI of Greater Des Moines.
Gina Skinner-Thebo, PHR, SHRM-CP, received her bachelor's degree from Park University in Kansas City, MO, graduating summa cum laude. In her current role, Gina serves as a senior employee relations consultant. Gina founded The Atwood Center for Women, which is an organization geared toward serving women in our community. The Atwood Center is best known for its Incredible Women Parties. Gina serves on the Board of Directors for Dental Connections and is a statewide spokesperson for NAMI. She was named a Forty Under 40 by the Des Moines Business Record and was a finalist for the Inspiring Women of Iowa. In her spare time, Gina enjoys coaching her kids' sports teams and wasting time on social media. She is married to her high school sweetheart.
Lynn Hicks has been the communications director for the Iowa Attorney General's Office and Department of Justice since March 2018. He serves as a top adviser to Iowa Attorney General Tom Miller on policy issues, and he is responsible for all communications with the media and public, the office's social media accounts and website, and internal communications. Lynn spent 27-plus years in newspapers as an editor, columnist and reporter. His previous position was as opinion editor of the Des Moines Register, where he interviewed most of the presidential candidates during the 2016 campaign and edited a series of editorials on Medicaid privatization that won the 2018 Pulitzer Prize for editorial writing. He's reported from China (twice), Brazil and Bosnia, and his series "Feeding China" was a finalist in international business reporting for UCLA's Gerald Loeb Awards in 2015. He has served as president of the Iowa Freedom of Information Council.
Amanda Heeren is the Program Director of the University of Iowa Mood Disorders Center and an adjunct professor in the UI School of Social Work. She has a Master of Social Work from UNI and a Bachelor of Social work from UI. Her professional interests include mood disorders, aging, neuroscience, and psychotherapy. Her personal interests include her children, cat, disc golf, crafty projects, and comedy.
Buffy Jamison graduated with her Master's in Higher Education from the University of Denver (DU). Her concentration in the program was Diversity in Higher Education, reflecting her desire to support historically marginalized communities in their educational endeavors. Buffy is also dedicated to educating the general public about members of marginalized communities who are often left out of vitally important aspects of the community at large. Her love of education and passion for social justice traveled back with her when she returned home to Iowa where she co-chairs the Iowa Queer Communities of Color Coalition and sits on the communication committee of the Des Moines NAACP. While at DU, Buffy focused her scholarly efforts on college students who are on the Autism Spectrum with an emphasis on intersectionality. Her work also centered on issues related to the LGBTQIA community and people of color. She received her BA in World Languages and Cultures/Spanish from Iowa State University (ISU). Buffy's past leadership roles include serving as president of DU's Black Graduate Student Association, DU's NASPA Graduate Student Associate, Inclusive Excellence Fellow at DU's Center for Multicultural Excellence, president of ISU's LGBTA Alliance, volunteer coordinator of the 2012 Midwest Bisexual Lesbian Gay Transgender Ally College Conference, and co-founder of ISU's Gamma Rho Lambda Omicron chapter. Serving in these roles inspired Buffy to be a fervent advocate for each of her communities.
Eric Barlow, MD, has been practicing psychiatry in the Des Moines area since 2003. He received his medical training at the University of South Dakota and completed a residency with the University of Iowa Hospitals and Clinics. Dr. Barlow is board-certified by the American Board of Psychiatry and Neurology. General adult psychiatry is his main focus, with special interest in the treatment for mood disorders, anxiety disorders and bi-polar disorder. Considered an authority in the use of deep Transcranial Magnetic Stimulation (dTMS) has evaluated and treated over 900 clients utilizing dTMS at Compass Clinical Associates, PLLC. Dr. Barlow's personal interests include spending time with his family, basketball, music, running, reading, racquetball, and theatre.
Nadia La Fontant, Underserved Advocacy & Training Specialist at the Iowa Coalition Against Sexual Assault, has been involved and employed in the anti-violence movement since 2012, including working in a comprehensive sexual assault program and an emergency sheltering program. She joined IowaCASA's staff in December 2015. She provides support to a statewide group of women and men of color working in comprehensive sexual assault programs. She also assesses the needs of marginalized and other underserved communities; provides training and coordinates victim services efforts to work with correctional institutions, detention facilities, and jails as they come into compliance with the Prison Rape Elimination Act (PREA) standards; and provides consultation and support to member programs in these areas.
Renee Hardman made history in 2017 when she was elected as the first African American woman to the West Des Moines City Council in its 125 year history. Renee is currently Chief Executive Officer (CEO) of Big Brothers Big Sisters of Central Iowa. She has served this organization for over 18 years as Big Sister, eight year Board member, and Big Sister of the Year in 1996. Renee is also owner of Hardman Consulting, LLC in which she specializes in facilitating workshops on implicit bias, privilege, diversity and inclusion. Prior to that, Renee Hardman served as an Executive Officer for Bankers Trust as their Senior Vice President of Human Resources. Having served on close to 20 non-profit Boards, Renee has a lengthy list of community service and honors, a select few include Trustee for Des Moines University, Advisory Board member for The Robert D. and Billie Ray Center, Polk County Housing Trust Fund, and past President of the Chrysalis Foundation and longtime volunteer and past 5th Judicial District Commissioner appointed by the Governor. In 2014, she was inducted into the Iowa Women's Hall of Fame and also has received a number of awards for her outstanding civic engagement to include but not limited to: Greater Des Moines Leadership Institute's Alumni Volunteer Award, DMU's Diversity Champion Award, Connie Wimer Spirit Award, President Obama's Dr. Martin Luther King, Jr. Drum Major of Service Award, and Women of Influence Award.
Dawn Grittmann is President of the NAMI Iowa Board of Directors. She has also served as both a Family-to-Family and Provider trainer. Dawn is a suicide loss survivor, losing two cousins and her father to suicide. Dawn joined NAMI to work to prevent other individuals and families from experiencing the trauma and losses that her family has realized. Outside of NAMI, Dawn works as a clinical pharmacist and is involved in several community groups. Dawn is married with one son, and her family is looking to expand through adoption.
Marty Parrish is a tech project manager for an international firm based in Montreal. He manages a global team of 23 people. Marty formerly owned several companies including a multi-state tax preparation firm. He also is a recovering alcoholic, sober for 9 years, and lives with major depression, generalized anxiety disorder, ADHD and post-traumatic stress disorder. He was trained in NAMI Provider in March 2019 and participated in the DMU training in May 2019 as a peer member of a team.
Heather Strachan, PRS, ICPR, As Grants Administrator at NAMI Iowa, Heather is the Co-Director of the Sexual Assault survivors with Mental Illness (SAMI) Project and is responsible for management of NAMI Iowa's grant projects. Heather joined the NAMI Iowa staff in June 2018, and advocates for recovery-centered peer- and family-led mental health services at the system and state level. Heather's professional background spans 15 years of campaign organization, communications, public policy, and program development prior to becoming a mental health professional in 2014. In her work at Berryhill Mental Health Center in Fort Dodge, she specialized in care coordination for trauma survivors who live with mental illness. Heather holds Iowa and International Certifications as a Recovery Specialist and has served as a curriculum reviewer for the University of Iowa Peer Support Training Collaborative. She has served as subject matter expert to the Iowa DHS Civil and Criminal Commitment Review workgroup, FTA Coordinating Council on Access and Mobility, and currently serves on the Iowa Maternal and Child Health Advisory Council for NAMI Iowa. Heather is currently a student of Psychology and Neuroscience at Drake University with a concentration on human rights and political psychology.
Lisa Streyffeler, PhD, is an Assistant Professor and the Chair of Behavioral Medicine, Medical Humanities & Bioethics at Des Moines University-College of Osteopathic Medicine. She is a Fellow of the National Academy of Osteopathic Medical Educators and a licensed psychologist with clinical interests in trauma and caring for pregnant and postpartum women with psychiatric illness. Her research interests include medical personnel selection, medical student well-being, and medical education pedagogy.
Lyndsey (Medders) Fennelly is a sports enthusiast, entrepreneur, and former Iowa State women's basketball player who was also drafted in the WNBA. She has trained over 40,000 athletes in 15 years for basketball, owns CampusCycle, a beat driven spin studio with locations in Ames and Ankeny, and serves as a color analyst for the ISU women's basketball team. Lyndsey is a passionate advocate for mental health, volunteerism, and a life well lived. She is married to ISU WBB assistant coach, Billy Fennelly, and the two have 2 children, Will & Callie.
DISCLOSURES
Relevant to the content of this educational activity, the following individual(s) have no conflict(s) with commercial interest companies to disclose.
Eric Barlow, MD, Speaker
Zach Blevins, Activity Coordinator and Planning Committee Member
Judy Bradshaw, Speaker
Lyndsey Fennelly, Speaker
Dawn Grittmann, Speaker
Connie Grunder, Speaker
Amanda Heeren, LMSW, Speaker
Lynn Hicks, Speaker
Peggy Huppert, Activity Director and Planning Committee Member
Buffy Jamison, MA, Speaker
Nadia La Fontant, Speaker
Michael Newton, Speaker
Amy Shriver, MD, FAAP, Speaker
Gina Skinner-Thebo, Speaker
Heather Strachan, PRS, ICPR, Activity Director, Planning Committee Member, and Speaker
Lisa Streyffeler, PhD, Speaker
Marty Parrish, Speaker
Nina Richtman, Planning Committee Member
Suzanne Robinson, Speaker
Tony Thompson, Speaker
Cindy Woodard, Planning Committee Member
Accreditation Statements
MD: This activity has been planned and implemented in accordance with the accreditation requirements and policies of the Iowa Medical Society (IMS) through the joint providership of Des Moines University (DMU) and the National Alliance on Mental Illness, Iowa. DMU is accredited by the IMS to provide continuing medical education for physicians. DMU designates this live activity for 6.0 AMA PRA Category 1 Credit(s)™. Physicians should claim only the credit commensurate with the extent of their participation in the activity.
DO: Des Moines University (DMU) is accredited by the American Osteopathic Association (AOA) to provide osteopathic continuing medical education for physicians. DMU designates this program for a maximum of 6.0 AOA Category 2-A credits and will report CME and specialty credits commensurate with the extent of the physician's participation in this activity.
Nurse: Des Moines University continuing education is Iowa Board of Nursing approved provider #112. This live activity has been reviewed and approved for 6.0 continuing education contact hour(s). No partial credit awarded.
Other health providers: This live activity is designated for 6.0 AMA PRA Category 1 Credit(s)™. 
EDUCATIONAL GRANTS
No commercial interest company provided financial support for this continuing education activity.
DISCLOSURE
Everyone in a position to control the content of this educational activity will disclose to the CME provider and to attendees all relevant financial relationships with any commercial interest. The speaker(s) will disclose if any pharmaceuticals or medical procedures and devices discussed are investigational or unapproved for use by the U.S. Food and Drug Administration (FDA). Determination of educational content and the selection of speakers is the responsibility of the activity director. Firms providing financial support did not have input in these areas.
Disclaimer
The information provided at this activity is for continuing education purposes only and is not meant to substitute for the independent medical judgment of a healthcare provider relative to diagnostic and treatment options of a specific patient's medical condition. The content of each presentation does not necessarily reflect the views of Des Moines University.
Available Credit
6.00

AMA PRA Category 1 Credits™

6.00

AOA Category 2­A

6.00

CE Contact Hour(s)

6.00

IBON