NAMI Iowa's Annual Conference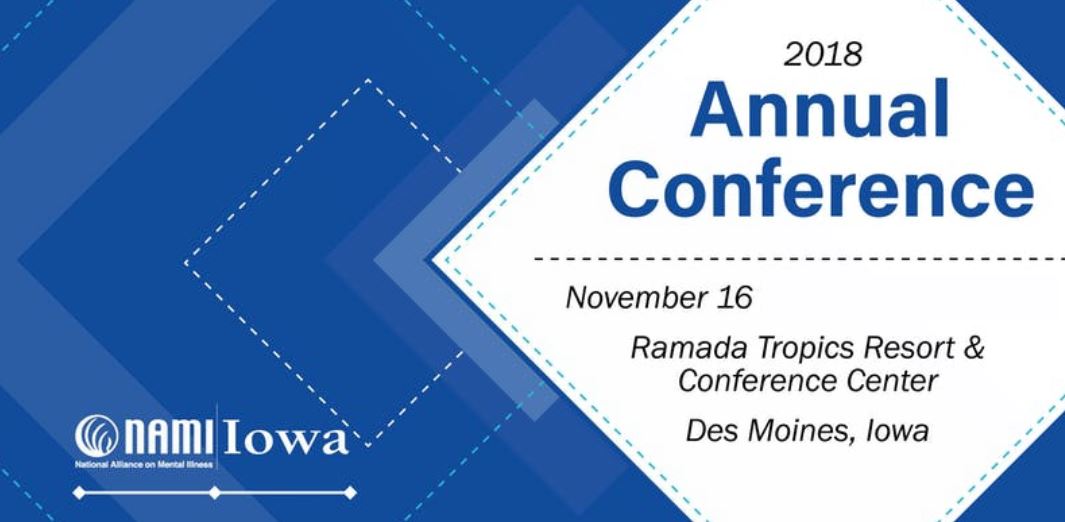 Registration
If you have questions, call the NAMI Iowa office at 515-254-0417 or email zach@namiiowa.org.
 
Purpose
The NAMI Iowa Annual Conference aims to bring together Iowa providers, healthcare and social service professionals, advocates, peers, and interested family members for education on organizational leadership, cultural competency and diversity in health care, and new and emerging treatments and practices to treat mental illness in health care settings, as well as the evidence-based practices of peer support. 
Professional Need
According to a 2016 New American Economy study on the shortage of psychiatrists in the United States, nearly 60% of all counties in the U.S. have zero practicing psychiatrists. This figure climbs to 80% in rural counties. At that time, 8.7% of the U.S. population resided in rural counties, however rural counties were served by only 1.6% of practicing psychiatrists. The result is that on average, there are almost 47,000 rural residents per rural psychiatrist.1 This is especially pertinent in Iowa, where 78 out of 99 counties are rural,1 and all metropolitan areas are under 250,000 population.  
With the U.S. shortage of psychiatrists expected to continue through 2020, other providers are left picking up the bulk of behavioral health prescribing as well as care coordination in Iowa, especially in rural areas.  These include family practitioners, palliative care clinics, and emergency departments.  Additionally, other specialties including oncology and pain management are beginning to recognize the benefits of addressing behavioral health and the impact it has on patient outcomes. Many clinics provide depression screenings, but lack the training to make appropriate referrals or address the social determinants and behaviors caused by mental illness. 
In order for treatment reach its full potential in both the individual and rural populations with mental illness, both a knowledge of new and emerging treatments for difficult/resistant disorders and a population health management and care coordination approach are required to reach maximum effectiveness.  Person-centered treatment planning acknowledges the intersection of personal identities, circumstances, social determinants and systems in place contributing to individual and population health outcomes.  Since 2014, Iowa has become a health home state, delivering person-centered treatment planning and care coordination through Chronic Condition Health Homes (physical illness only), or Integrated Health Homes (behavioral plus physical health care coordination).  However, this model of care is still not widely known among providers, social workers, and family members outside those clinics and individuals receiving this type of care.
Learning Objectives
Create and implement a patient-centered treatment plan that takes into account intersecting/diverse identities, trauma history of the individual, and the role of the family and peers in self-advocacy.

Describe the risks of opioid abuse and co-occurring mental illness.

List risks and benefits of new treatments in practice and on the horizon for treatment-resistant depression.

Describe the benefits of integration of primary care and behavioral health care services, and describe the role of peer support in these services.
Agenda
8 am
Registration
8:30 am
Welcome and Introduction
Peggy Huppert, NAMI Iowa Executive Director
9:30 am
Evidence-Based Practices as a Tool for Improved Mental Health Services
Teri Brister, PhD, LPC, Director, Knowledge Integration Information, Support & Education, NAMI National
10:30 am
Integrated Health Care Services
Aaron McHone, MBA, Executive Director and ACO Executive Sponsor at UnityPoint Health - Fort Dodge
11:30 am
Lunch
12:15 pm
How We're Going to Build a Children's Mental Health System in Iowa
Jerry Foxhoven, JD, Director, Iowa Department of Human Services
 
Organizational Leadership
New and Innovative Treatments
Serving All Iowans
1:15 pm
Fundraising, Planning and Best Practices (Non-CE)
Jenna Knox, State Deputy Director, Planned Parenthood of the Heartland    
Success of Transcranial Magnetic Stimulation in Treatment Resistant Depression
Eric R. Barlow, MD, Medical Director, Compass Clinical Associates 
David Grove, PhD, Owner and President, Chief Clinical Officer, Compass Clinical Associates
ACEs and Trauma Informed Behavior in Primary Care
Amy Shriver, MD, Pediatrician, Blank Children's Pediatric Clinic
2 pm
Break
2:15 pm
Regional Affiliates: Building Relationships (Non-CE)
Jody Eaton, CEO, Central Iowa Community Services
Lisa Heddens, Executive Director, NAMI Central Iowa
The Opioid Epidemic and Intersection with Mental Health
Joan Kitten, ARNP, UnityPoint Berryhill Mental Health Center
Intersectionality and Identity in Mental Health Treatment
Buffy Jamison, Program Coordinator, OneIowa
3 pm
Break
3:15 pm
Marketing 101: How to Build a Strong Community Presence (Non-CE)
Julie Stauch, Capacity Building Grant Manager, NAMI Iowa
Ketamine in Treatment Resistant Depression
Mark Niciu, MD, PhD, Assistant Professor, University of Iowa Carver School of Medicine    

Innovative Practices of Peer Support in Health Care Panel
Aaron McHone, MBA, Executive Director and ACO Executive Sponsor at UnityPoint Health - Fort Dodge
Ashley Vaala, Executive Director, Lotus Community Project 
Jackie Hammers-Crowell, CPSS
Todd Lange, Amerigroup    
Ryanne Wood, MA, CEO of South East Iowa Link MHDS Region

4 pm
Mental Health Advocacy and YOU! 
Joan Becker, Author, Sentenced to Life

Identify the effects of mental illness of the individual on the family unit
Discuss the benefits of including family and natural supports in person-centered treatment planning
Identify avenues and methods for self-advocacy in the healthcare system and in policy

5 pm
Adjourn
Disclosures
Relevant to the content of this educational activity, the following individual(s) have no conflict(s) with commercial interest companies to disclose.
Eric R. Barlow, MD, Speaker
Joan Becker, Speaker
Zach Blevins, Planning Committee Member
Teri Brister, PhD, LPC, Speaker
Jerry Foxhoven, JD, Speaker
David Grove, PhD, Speaker
Jackie Hammers-Crowell, CPSS, Speaker
Peggy Huppert, Planning Committee Member
Buffy Jamison, Speaker
Joan Kitten, ARNP, Speaker
Todd Lange, Speaker
Aaron McHone, MBA, Speaker
Mark Niciu, MD, PhD, Speaker
Amy Shriver, MD, Speaker
Heather Strachan, PRS, Activity Director
Ryanne Wood, MA, Speaker
Cindy Woodard, Planning Committee Member
Ashley Vaala, Speaker
Ramada Tropics Resort
5000 Merle Hay Road
United States
Continuing Education Credit
MD:  This activity has been planned and implemented in accordance with the accreditation requirements and policies of the Iowa Medical Society (IMS) through the joint providership of Des Moines University (DMU) and NAMI Iowa. DMU is accredited by IMS to provide continuing medical education for physicians. DMU designates this live activity for a maximum of 6.0 AMA PRA Category 1 Credit(s)™.  Physicians should only claim credit commensurate with the extent of their participation in the activity.
DO: Des Moines University (DMU) is accredited by the American Osteopathic Association (AOA) to provide osteopathic continuing medical education for physicians. DMU designates this program for a maximum of 6.0 AOA Category 2-A credits and will report CME and specialty credits commensurate with the extent of the physician's participation in this activity.
Nurse: Des Moines University is Iowa Board of Nursing approved provider #112. This live activity has been reviewed and approved for 6.0 continuing education contact hour(s). No partial credit awarded.​
Other Health Professionals: This live activity is designated for a maximum of 6.0 AMA PRA Category 1 Credit(s)™.
EDUCATIONAL GRANTS
No commercial interest company provided financial support for this continuing education activity.
DISCLOSURE
Everyone in a position to control the content of this educational activity will disclose to the CME provider and to attendees all relevant financial relationships with any commercial interest. They will also disclose if any pharmaceuticals or medical procedures and devices discussed are investigational or unapproved for use by the U.S. Food and Drug Administration (FDA). Determination of educational content and the selection of speakers is the responsibility of the activity director. Firms providing financial support did not have input in these areas. The information provided at this CME activity is for continuing education purposes only and is not meant to substitute for the independent medical judgment of a healthcare provider relative to diagnostic and treatment options of a specific patient's medical condition. The content of each presentation does not necessarily reflect the views of Des Moines University.
Available Credit
6.00

AMA PRA Category 1 Credits™

6.00

AOA Category 2­A

6.00

CE Contact Hour(s)

6.00

IBON