Therapeutic Neuroscience Education: Educating Patients About Pain
April 18, 2015

to

April 19, 2015
This 15 hour, 2 day class is designed to update attendees on the latest evidence and clinical application of therapeutic neuroscience education for patients in pain. Current best evidence has shown that neuroscience educational strategies utilizing neurobiology and neurophysiology are able to reduce pain, increase function, reduce fear and catastrophization, improve movement and change cognitions and brain activation during pain experiences. Therapeutic neuroscience education changes patient beliefs regarding their pain, thus reducing the threat of pain. 
There is evidence to show the clinicians under estimate patients' ability to understand pain neuroscience information and that patients can actually understand complex pain neuroscience information when delivered through various metaphors and relevant stories. (Moseley 2003)  This CME provides the clinician with the tools to be able to deliver pain neuroscience information in clinically useful methods to improve patients understanding of pain neuroscience. 
This class will discuss the evolution of therapeutic neuroscience education, why neuroscience education is needed in patient care and, more importantly, the clinical application and implementation of therapeutic neuroscience education for patients with acute, sub-acute and chronic pain. Special features include various metaphors, images, examples and case studies explaining neuroscience to patients in pain. In addition the class will cover clinical issues such as compliance, pacing exercise and activity, incorporation of therapeutic neuroscience education with traditional movement based therapy, billing and insurance reimbursement concerns and delivering therapeutic neuroscience education in busy, time-constrained clinical environments.
Agenda
| Day 1  | Saturday |
| --- | --- |
| 8 am | Introduction and Welcome |
| 8:15 am | Our Patient and Our Reasoning |
| 9:15 am | Cognitions and Pain |
| 10 am | Break |
| 10:15 am | Education Patients |
| 11 am | Therapeutic Neuroscience Education: Nociception and Pain |
| 12:30 pm | Lunch |
| 1:30 pm | Therapeutic Neuroscience Education: Neuropathic Pain |
| 3 pm | Therapeutic Neuroscience Education: Central Sensitivity |
| 4:15 pm | Break |
| 4:30 pm | Therapeutic Neuroscience Education: Multiple Output Mechanisms Defending |
| 6 pm | Adjourn |
| Day 2  | Sunday |
| --- | --- |
| 8 am | Recap and review from day 1 |
| 8:15 am | Clinical Application: Step-by-Step education for patients in pain |
| 10 am | Break |
| 10:15 am | Clinical Application: Step-by-Step education for patients in pain (cont). |
| 11 am | Clinical Issues: Time, duration, billing, other therapy, frequency and more… |
| 12 pm | Lunch |
| 1 pm | Therapy for Pain: Exercise, Movement and more… |
| 2:30 pm | Break |
| 2:45 pm | Case Study: "Everything Hurts; Nothing helps" – putting it all together |
| 3:45 pm | Summary, Questions and Finish |
| 4 pm | Adjourn |
Target Audience
Physicians, nurses, physical therapists, and other healthcare professionals.
Learning Objectives
Update participants on the latest evidence and clinical application of therapeutic neuroscience education for patients in pain.
Discuss on a basic level the latest evidence in regards to pain neuroscience information in the Pain Neurophysiology Questionnaire.
Complete the questionnaire with 100% accuracy with use of course materials.
Demonstrate the ability to apply therapeutic neuroscience education to clinical practice with the use of at least one metaphor shared in class.
List at least half of the 10 output systems discussed in class and their response in a chronic pain patient.
List one or two potential strategies to implement therapeutic neuroscience education into clinic practice regarding time, staff, billing and traditional therapeutic treatments.
Design a physical therapy treatment plan for a chronic pain patient based on various output system dysfunctions with correct pain neurophysiological reasoning behind the treatment with the information provided in the course.
Speakers
Adriaan Louw, PT, PhD, CSMT
CEO, International Spine & Pain Institute 
Dr. Louw, co-founder and CEO of ISPI, earned both an undergraduate as well as a master's degree in research and spinal surgery rehabilitation from the University of Stellenbosch in Cape Town, South Africa. He is a guest lecturer/adjunct faculty at Rockhurst University, St. Ambrose University and the University of Las Vegas Nevada. In addition, he maintains a clinical practice and is co-owner of The Ortho Spine and Pain Clinic in Story City, Iowa. Adriaan has been teaching postgraduate, spinal manual therapy and pain science classes throughout the US and internationally for 15 years. He is a Certified Spinal Manual Therapist through ISPI. In addition, Adriaan has presented at numerous national and international manual therapy, pain science and medical conferences and has authored and co-authored articles, books and book chapters related to spinal disorders and pain science. Recently, Dr. Louw completed his Ph.D. which centers on therapeutic neuroscience education and spinal disorders.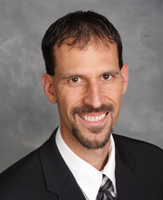 Kory Zimney, PT, DPT, CSMT
Instructor, International Spine & Pain Institute 
Dr. Zimney received his Master's Degree in Physical Therapy from the University of North Dakota and completed a transitional DPT from Des Moines University. Currently, he works as an assistant professor with the University of South Dakota Physical Therapy Department and maintains a clinical practice with Mercy Business Health Services in Sioux City, Iowa, where he treats work related injuries. In addition, he provides on-site loss prevention services for local businesses. His primary teaching and treatment focus is centered on evidence-based practice for orthopedic injuries as well as client and community health education and therapeutic neuroscience education. He has advanced training in work injury management and ergonomics. Prior work experience includes community-based hospitals working in multiple areas such as inpatient, skilled rehab, home health, acute rehab, work conditioning/hardening and outpatient care. He served as department manager of rehabilitation services at St. Luke's Health System in Sioux City. He is an Advanced Credentialed Clinical Instructor through the APTA, a Certified Spinal Manual Therapist through the International Spine and Pain Institute and has completed Certification in Applied Functional Science through the Gray Institute.
Marnie Hartman, PT, DPT, CSSC, RYT 
Instructor, International Spine & Pain Institute 
Dr. Hartman earned her Doctorate of Physical Therapy from Loma Linda University. She worked broadly in Sports and Orthopedics and gained extensive training in Manual and Orthopedic Rehabilitation from Kaiser Permanente Residency Program. She is a Certified Strength and Conditioning Specialist and 200 hour Vinyasa Yoga Teacher working toward her 500 hour training. In 2005, Dr. Hartman abandoned the glamorous world of Sports Rehabilitation in Southern California for a simple life and difficult practice in the bush of Alaska. Since this transition she has become highly trained in treating patients with persistent pain. Using Therapeutic Neuroscience Education with patients and medical providers, the epidemic of pain has changed for the better in Haines, Alaska where she continues to live and work as the sole Physical Therapist. Outside physical therapy, you can find Dr. Hartman standing on her hands or teaching in a yoga studio, trail running with her wonder dog or hunting and gathering the wilds of Alaska with her partner Greg.
Relevant to the content of this CME activity, Dr. Louw indicated he is a publisher and receives royalties from OPTP (fitness equipment manufacturer). Dr. Zimney and Dr. Hartman both indicated they have no financial relationships to disclose.
Continuing Education Credit
MD: This activity has been planned and implemented 

in accordance with the accreditation requirements and policies of the Iowa Medical Society (IMS) through the joint providership of Des Moines University (DMU) and the International Spine and Pain Institute. DMU is accredited by IMS to provide continuing medical education for physicians. DMU designates this live activity for a maximum of 15.0 

AMA PRA Category 1 Credits™

.  Physicians should claim only the credit commensurate with the extent of their participation in the activity.

DO: Des Moines University is accredited by the American Osteopathic Association (AOA) and approves this live activity for 15.0 AOA Category 2-A CME credit(s).
Nurse:

Des Moines University is Iowa Board of Nursing approved provider #112.

This live activity has been reviewed and approved for 18.0 continuing education contact hour(s). No partial credit awarded.

Other: This live activity is designated for 15.0 AMA PRA Category 1 Credit(s)™.
TRIA Orthopedic Center
United States
Available Credit
15.00

AMA PRA Category 1 Credits™

15.00

AOA Category 2­A

15.00

CE Contact Hour(s)

18.00

IBON