The Cervical Spine: A Manual Therapy and Pain Science Approach
Course Description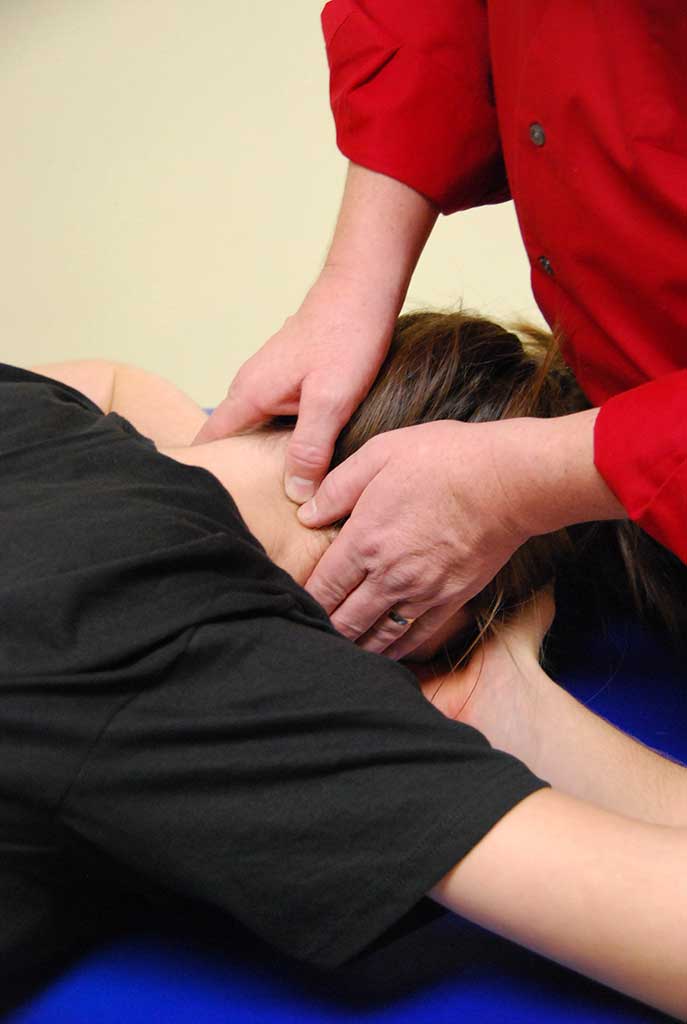 This blended online/onsite course is designed to provide the clinician with the skills to diagnose common cervical spine pathologies, determine the necessary precautions and contraindications and design comprehensive treatment plans incorporating manual therapy, neurodynamics, pain neuroscience education, exercise and sensorimotor retraining.
Additionally, this course will blend pain neuroscience with manual therapy, providing a unique pain science view of cervical spine disorders.  New and updated clinical pathology of the cervical spine, along with pain science form the framework from which cervical spine pathologies and pain patterns are discussed.  Physical therapy treatments, as well as medical interventions and diagnosis will be discussed in relation to the new and updated research information.  The material covered in this course is immediately applicable in the clinic.  Topics include common conditions such as disc lesions, nerve root pain, facet joint injuries, aging, spinal stenosis, headaches, whiplash associated disorders and more.  
Clinicians will be instructed in safe and effective handling skills during the evaluation and treatment of the cervical spine.  Treatments covered include pain neuroscience education, joint mobilization, traction, neural tissue mobilization, soft tissue treatment, spinal stabilization, sensorimotor retraining and more.  This course is open to physical therapists.
Approach
This course is delivered in a blended learning fashion, combining online and on-site learning experiences to facilitate participant learning. An interactive and media-rich online pre-course is provided to participants 30 days in advance of an intensive one-day on-site laboratory weekend.  The online pre-course provides an evidence-based overview of the management of cervical disorders using a series of 16 web-based video presentations (30 minutes each), key evidence summaries, hand-outs and primary research articles.  
The online pre-course provides the necessary foundation needed to execute the physical tests and treatments associated with the weekend intensive class.  The on-site lab intensive day provides participants with hands-on demonstration and practice of selected examination and manipulative techniques for the cervical spine. A heavy focus is placed on the skill development and proficient use of mobilization, and manipulation interventions for this area of the spine.  An online post-test and on-site skill assessment is used to reinforce course objectives and assess learning. Successful completion of this course requires 80% or higher on post-test, instructor feedback and attendance at each onsite day.
Target Audience
Intermediate level course open to licensed physical therapists.
Objectives
Identify and perform key elements of the cervical spine subjective and objective clinical examination, with particular emphasis on active and passive motion testing with overpressure, differential testing, and special tests.
Synthesize and analyze data from the cervical spine clinical examination based on signs and symptoms within a pain science paradigm.
Determine a diagnosis and use sound clinical reasoning and pain science to guide patient/client management.
Engage in the diagnostic process to establish differential diagnoses across systems & across the life span.
Utilize a consistent clinical process to effectively screen for systemic disease and non-musculoskeletal pathology in patients with cervical and thoracic pain.
Justify the selection of manual therapy techniques, pain science education or integrated exercise using clinical reasoning and application of current best evidence.
Perform selected cervical mobilization techniques in patients with neck pain or dysfunction when found justified.
Course Format
Blended model of online coursework and 1 onsite weekend intensive (1 day)
Credits
20 contact hours (12 online and 8 on-site) from EIM Institute of Health Professions
Prerequisites
None
Appropriate Dress
Participants are asked to bring appropriate attire for lab sessions (i.e. shorts and t-shirts and sports bras for women) and air-conditioned environments throughout the day (i.e. warm-up or work-out clothes).
Contact
International Spine and Pain Institute
866-709-7096
info@ispinstitute.com
http://www.ispinstitute.com/
Des Moines University
3200 Grand Avenue
Academic Center 2nd Floor
United States
Des Moines University is located on a 22-acre campus in the heart of Des Moines, Iowa. Just west of downtown on Grand Avenue, the University is located in one of Des Moines' most prestigious neighborhoods. The campus is in a historic neighborhood filled with tree-lined streets and gracious older homes and businesses. Its central location makes it easy to access the rest of the city and outlying communities. The campus is close to the Des Moines International Airport, located on the bus line and just blocks from local shopping and downtown Des Moines.
Travel
Hotel Accommodations
There are numerous hotels available in the Des Moines area. Below are a few options located downtown (close to campus), near the airport and west of Des Moines. Some hotels offer shuttle service to DMU, but you must inquire with the hotel directly. Some hotels may offer a discount (based on availability). Mention DMU to your hotel to see if a discount may be available.
Des Moines Marriott – Downtown
700 Grand Avenue
Des Moines, IA 50309
515-245-5500
May offer discounted rates
Airport shuttle service
Restaurant and lounge
Health club and indoor pool
Hyatt Place Des Moines
418 6th Avenue
Des Moines, IA 50309
515-282-5555 or 888-591-1234
Airport shuttle service
Complimentary shuttle service to Des Moines University
Complimentary Hot American & Continental Breakfast
Fitness Center & Indoor Pool
DMU Discounted Rate (mention Des Moines University Corporate Rate)
Renaissance Savery Hotel – Downtown
401 Locust Street
Des Moines, IA 50309
800-514-4706
Airport shuttle service
Restaurant and lounge
DMU discount on standard rooms (based on availability)