POSTER ABSTRACTS
Materials should NOT be shared with those that are not registered for the conference. Poster abstracts are not proofed for spelling and/or grammar errors.
The poster and/or other information contained on this website may NOT be downloaded and/or used without prior written permission from all authors on the project. If you would like to be connected with the author(s), please email cme@dmu.edu.
---
Genetic profiling of the hippocampus during peripheral chronic inflammatory pain 
Adam Garman, MSBS'22, Allison Ash, Ellesavette Kokkinos, DO'24, Dakota Nerland, DO'22, Lori Winter, and Vanja Duric, PhD
Department of Physiology and Pharmacology, Des Moines University, Des Moines, IA
---
Abstract
Brain mechanisms linking chronic pain conditions and development of comorbid clinical depression are still largely unknown.  Here, we used a genome-wide microarray analysis to examine the genetic profile of the hippocampus, a limbic region that regulates mood and stress responses, from male rats exposed to 21 days of inflammatory pain.  Bioinformatic gene network/canonical pathways analyses have identified significantly dysregulated genes with known roles in either neuroinflammation or neurodegenerative processes.  Akt (protein kinase B) was identified as the main network hub gene.  Altered activity of Akt-related signaling pathways has been linked to both the development of depressive state and antidepressant treatment. Furthermore, lipocalin-2 (Lcn2) or NGAL was identified as one of the highest upregulated genes (~ 2-fold) within the hippocampus during chronic pain state.  Lcn2/NGAL is an iron-related protein with roles in innate immune response and cell differentiation/maturation that was recently implicated in regulation of emotional behaviors and cognitive function through regulation of neuronal excitability and dendritic spine formation/maturation. Besides the hippocampus, robust increases in Lcn2/NGAL mRNA were also observed within the prefrontal cortex (PFC) and anterior cingulate cortex (ACC), as well as in the brains of female rats exposed to the same pain paradigm.  Overall, the results of this study continue to strengthen the idea that dysregulation of genes involved in neuroinflammatory and neurodegenerative processes in the hippocampus and other limbic brain areas may be involved in the development of mood disorders during the chronic pain state.
Keywords: chronic pain, depression, gene, hippocampus, prefrontal cortex, Lcn2, NGAL
Supported by a PhRMA Foundation Starter Grant (V.D.) and Iowa Osteopathic Education and Research Funds (V.D.).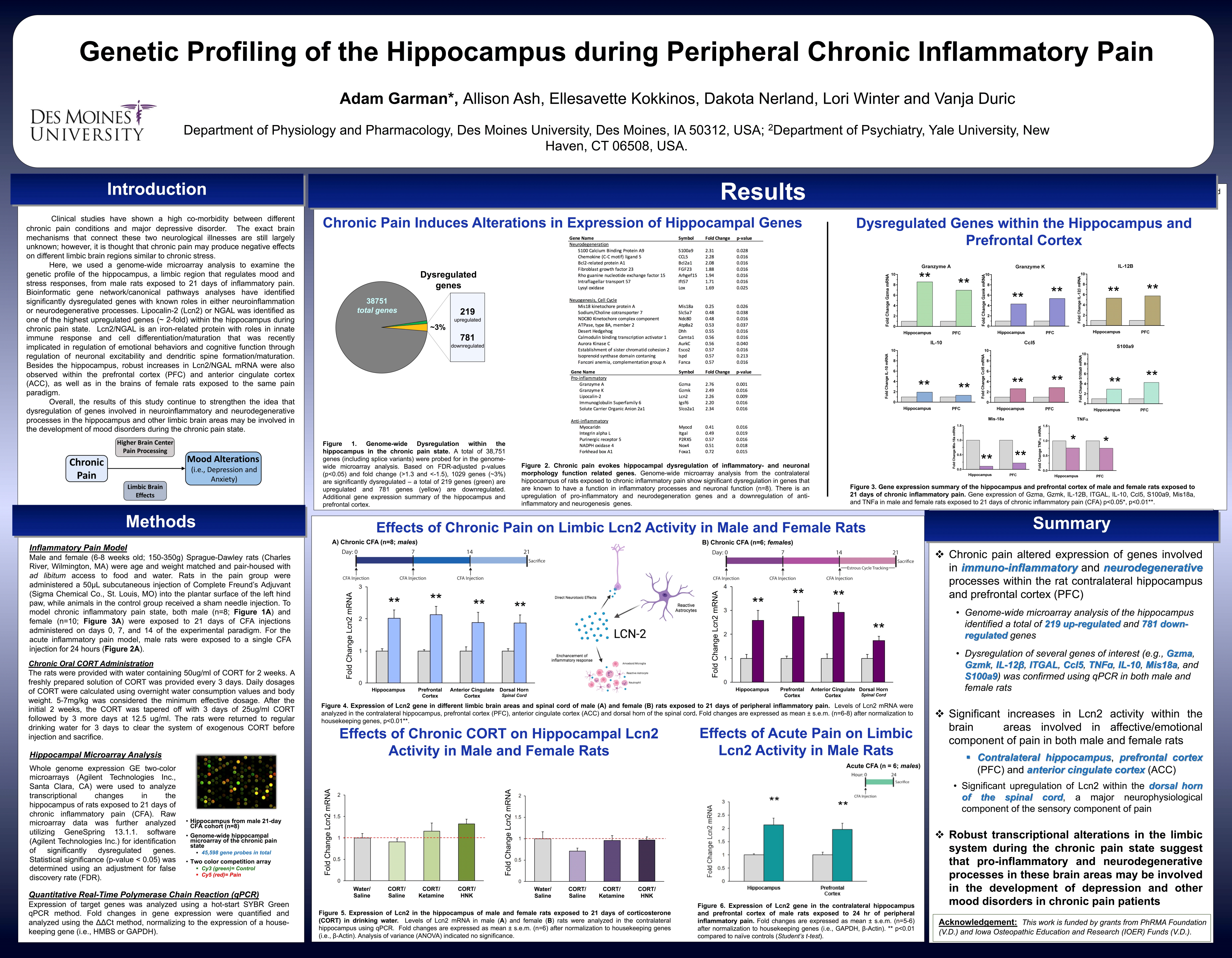 Access PDF version to expand view.
---