POSTER ABSTRACTS
Materials should NOT be shared with those that are not registered for the conference. Poster abstracts are not proofed for spelling and/or grammar errors.
The poster and/or other information contained on this website may NOT be downloaded and/or used without prior written permission from all authors on the project. If you would like to be connected with the author(s), please email cme@dmu.edu.
---
Crosstalk between metabolism and cancer: finding correlation between two branched chain aminotransferases and the survival of patients with lymphoma by using Kaplan Meier survival curves
Aleyna K. Follett, MSBS'22 and Elitsa Ananieva, PhD
Department of Biochemistry and Nutrition, Des Moines University, Des Moines, IA
---
Abstract
Non-Hodgkin Lymphoma (NHL) accounts for 4% of annual cancer diagnosis and 3.4% of cancer deaths. This cancer commonly begins in the B lymphocytes and spreads throughout the lymphatic system. Though therapeutic strategies to combat NHL have advanced, this cancer continues to be resistant to current treatments. The metabolism of the branched chain amino acids plays an important role in cancer progression. Two genes, encoding the cytosolic and the mitochondrial branched chain aminotransferase, BCAT1 and BCAT2, respectively, are prognostic cancer markers for glioblastomas, colorectal, and hepatocellular cancers. To investigate the role BCAT1 and 2 may play in lymphoma, we undertook bioinformatic approach aiming at correlating the expression of the two metabolic genes with the survival of lymphoma patients. The genomic platform (R2) was used to access information about overall survival, disease survival, and treatment options for patients with diffuse large B-cell (DLBCL) and Mantle cell NHL. Kaplan Meier curves allowed to corelate the gene expressions with the patient survival. While higher expressions of BCAT1 and BCAT2 lead to lower overall cancer survival, we found that higher expression of BCAT1 correlated with a better probability for overall survival of DLBCL patients. In contrast, patients with Mantle cell NHL, who expressed higher levels of BCAT1 or BCAT2, had lower chances to survive. Lastly, treatment with the monoclonal antibody, rituximab, improved the overall survival for all patients regardless of their BCAT status. The results give insight into the variance in B-cell lymphomas and direct toward addressing the differences in patient survival on molecular level.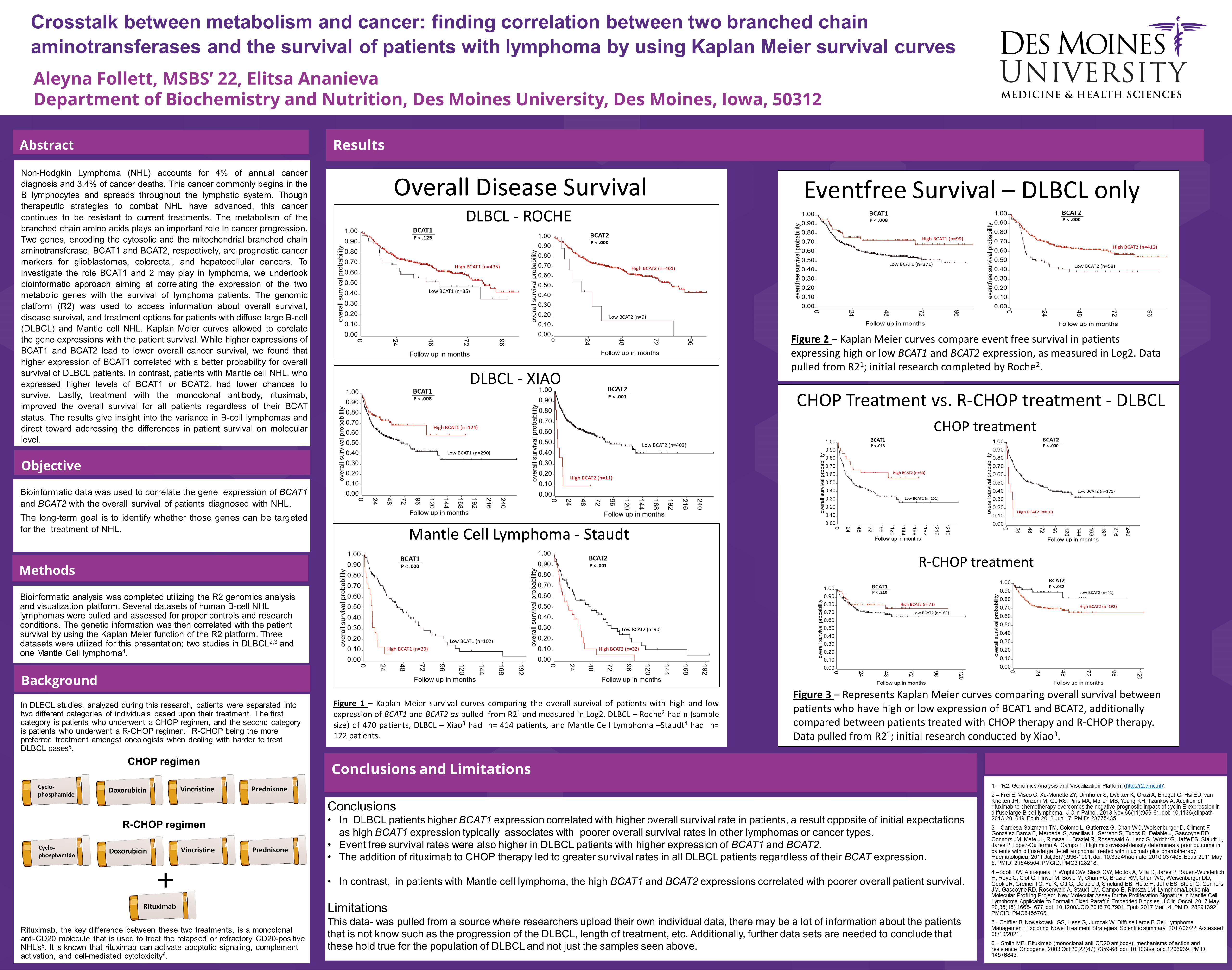 Access PDF version to expand view.
---