POSTER ABSTRACTS
Materials should NOT be shared with those that are not registered for the conference. Poster abstracts are not proofed for spelling and/or grammar errors.
The poster and/or other information contained on this website may NOT be downloaded and/or used without prior written permission from all authors on the project. If you would like to be connected with the author(s), please email cme@dmu.edu.
---
Screening and validation of FDA approved oncology drugs for induction of progesterone receptor expression in endometrial cancer 
Kayla Olstinske, PharmD'241, Sarina Murray, BS2, Xiangbing Meng, PhD3,4, Shujie Yang, PhD3,4
Drake University College of Pharmacy, Des Moines, IA1
University of Iowa Carver College of Medicine, Iowa City, IA2
Department of Pathology, University of Iowa, Iowa City, IA3
Holden Comprehensive Cancer Center, Iowa City, IA4
---
Abstract
Endometrial cancer (EC) is the most predominant uterine cancer and continues to grow in incidence and deaths annually. A characteristic of malignant endometrial tumors is sensitivity to growth promoting effects of estrogen and growth limiting effects of progesterone. Progesterone hormonal therapy is typically used in EC treatment; however, it is not lasting in efficacy due to the downregulation of progesterone receptor (PR) expression in cancer cells. This investigation pursues the screening and validation of existing FDA-approved anticancer drugs which induce PR and mCherry, an endogenous PR reporter gene which faithfully reflects PR expression in endometrial cancer cells in real time. 
CRISPR-9 created Ishikawa and ECC1 EC cells transfected with PR reporter gene attached to mCherry, confirmed via PCR. Western blot and qPCR analyses probing for mCherry and Romidepsin to visualize PR effect yielded eight possible gene clones to use on drug-specific experimentation. A series of HTS experiments tested four clones from each cell line and compared 2000 to 4000 ECC1 cells using 100nM Romidepsin, the three most promising clones of each cell line in a dose-response format using Romidepsin, and EM18S and I12L on two separate plates treated with FDA-approved oncology drug plates to identify PR-inducing drugs. A proliferation assay of discovered drugs—Ixazomib, Venetoclax, Sunitinib, Vinblastine, Bortezomib, Panobinostat, Belinostat, and Carfilzomib—identified maximum doses for validation testing. qPCR and western blot analyses of valuable proteins validated relevant functions of identified drugs. Further experimentation is indicated to validate therapeutic efficacy of identified drugs and discover other drug therapy options.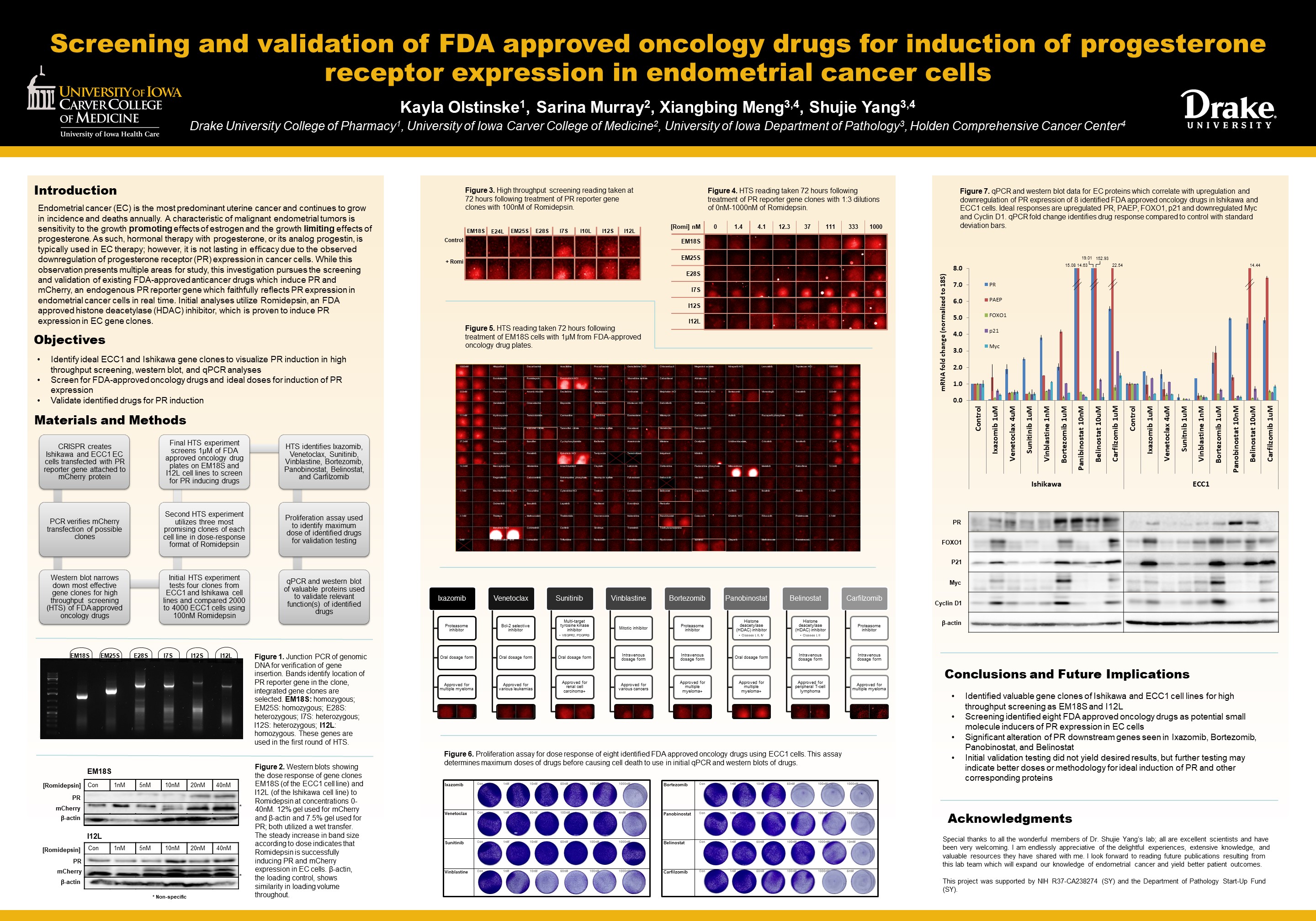 Access PDF version to expand view.
---