POSTER ABSTRACTS
Materials should NOT be shared with those that are not registered for the conference. Poster abstracts are not proofed for spelling and/or grammar errors.
The poster and/or other information contained on this website may NOT be downloaded and/or used without prior written permission from all authors on the project. If you would like to be connected with the author(s), please email cme@dmu.edu.
---
Exercise protects against inflammation by modulating rat hippocampal NF-kB and nucleus accumbens FosB/ΔFosB 
Chia-Ming Lee, DO'241, Lauren Points, PhD1, Khaled Alganem2, Brock Pope1, Robert McCullumsmith, MD, PhD2,3, Li-Lian Yuan, PhD1
1Department of Physiology and Pharmacology, Des Moines University, Des Moines, IA
2Department of Neuroscience, University of Toledo, Toledo, OH
3Neurosciences Institute, ProMedica, Toledo, OH
---
Abstract
It is well-established that exercise exerts beneficial effects on the central nervous system, such as protecting against neuronal aging and inducing stress-resilience. However, significant individual differences exist in exercise motivation, and the underlying mechanisms linking exercise to brain health remain unclear. Using rat voluntary wheel running, we modeled for acute exercise: rats were allowed to run during a 5-hour session after 4 days of training and subsequent 2 days of rest. They were then grouped based on running distances. With high throughput active kinome profiling on rat hippocampus, we discovered exercise significantly reduces the activity of several kinases in the NF-kB activation pathway responsible for cellular inflammation, including COT, IKK, PKD, and RIPK.  Subsequent validation with transcriptional analysis showed that with an acute bout of running, NF-kB activity in the hippocampus is significantly repressed compared to sedentary controls, especially in high-running rats.  Additionally, we found that acute exercise induces FosB/ ΔFosB expression in the nucleus accumbens, which drives motivation in reinforced behaviors. This is intriguing because while FosB/ΔFosB canonically responds to repeated and chronic exposure to certain antidepressants or drugs of abuse, here we show that a single period of exercise is sufficient to induce its expression. In summary, we propose that acute exercise may exert anti-inflammatory effects via downregulation of NF-kB pathway in the hippocampus, and the motivation underlying exercise may be related to FosB/ΔFosB expression in the nucleus accumbens. Future directions include explicating individual differences in exercise motivation and examining other brain regions.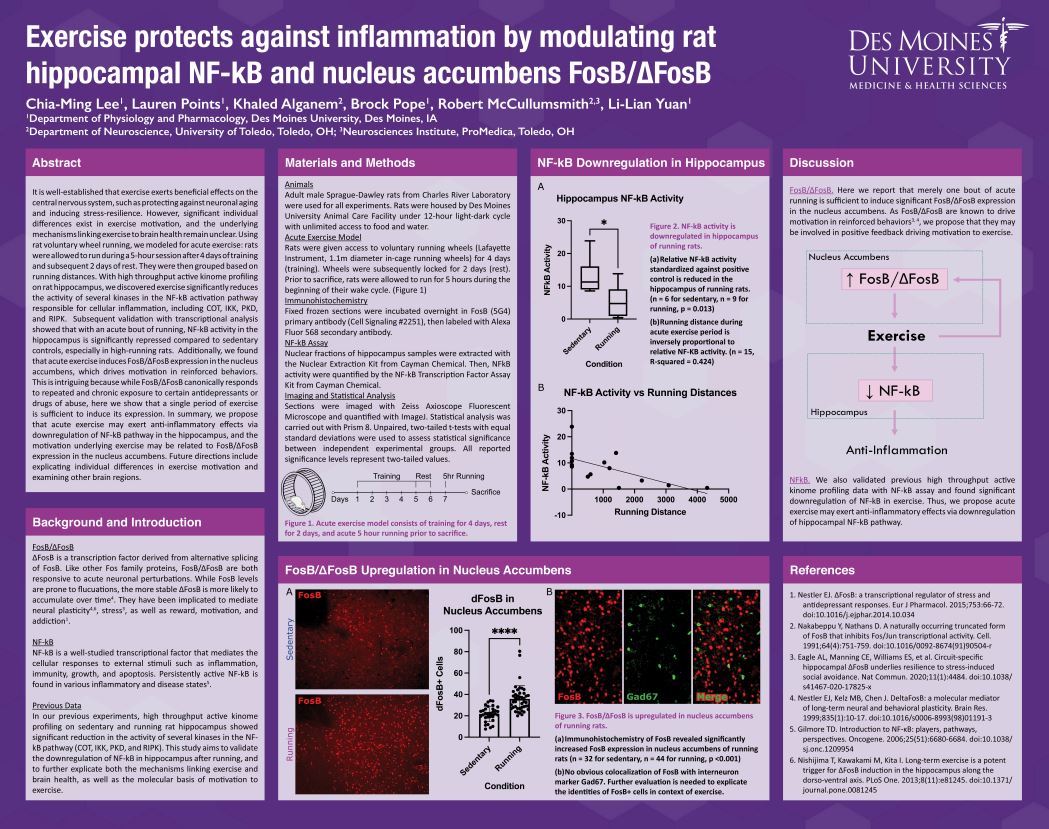 Access PDF version to expand view.
---