Moving from Message to Action: The Role of the Learner in Feedback
Registration

There is no cost to attend and registration is not required.
​ 
Series Description
Biomedical scientists, along with clinical practitioners, have critical roles in training health-care students in the scientific basis of medicine and in the research progress to combat disease. Exciting educational opportunities exist for future biomedical science faculty members: new schools require more pre-clinical and clinical teachers, new educational methods provide team-teaching opportunities, and new ideas forIAMS research may spring from teaching in a clinical context. Even so, potential challenges face recruitment of future faculty. Health care and research funding challenges are impacting training programs and reducing the attraction of careers in academic medicine. Research training in molecular sciences makes spectacular progress yet often widens the gap between the reductionist lab and the integrative nature of clinical medicine. New methods of health-science teaching that blends knowledge and application into different formats improves clinician training yet makes it more difficult to integrate biomedical graduate students into professional curriculum courses. New educational approaches require scientists and clinicians alike to be trained to teach in different ways from how they learned. This series of webcast seminars will address different approaches to facing some of these opportunities and challenges and will include sessions on developing and improving observational skills in small group teaching sessions and preceptorships, giving and receiving feedback, and descriptions of specific university and organizational programs that assist graduate students in developing teaching skills for health-science courses and integrative programs.
Webinar Description
This session will review literature regarding the importance of feedback in medical education and the link between feedback-seeking behavior and lifelong learning. The goal of feedback is to actively engage students in a framework for the process of learner reflection on performance. This creates common ground for dialogue regarding performance that facilitates the feedback process and, importantly, when successful results in a change in actions or behaviors by the learner. 
Speaker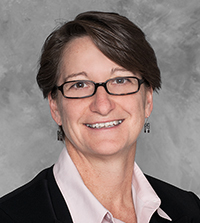 Karen Cornell, DVM, PhD, DACVS
Dr. Cornell is a professor in the Department of Small Animal Medicine and Surgery at the University of Georgia. Dr. Cornell graduated from Purdue's School of Veterinary Medicine and after two years in private practice returned to Purdue where she completed an internship, small animal surgery residency and Ph.D. She joined the faculty at the University of Georgia in 1998. Karen is a soft tissue surgeon with a primary interest in teaching methodologies and reconstructive surgery. She is a two-time recipient of the Carl Norden-Pfizer Distinguished Teaching Award and in 2011 she was named a Josiah Meigs Distinguished Teaching Professor, the highest award for teaching at UGA.
Des Moines University
3200 Grand Avenue
Ryan Hall 181
United States