Virtual Reality and Augmented Reality in Medical Education
Registration

Open to DMU faculty and staff only. There is no cost to attend and registration is not required.
​ 
Series Description
As 21st century medical education continues to transform into an interactive, learner-centered framework, technology has emerged as a valuable resource to aid in this transformation. The Fall 2018 IAMSE Webinar series explores the role of multiple technologies in supporting and guiding the evolution of 21st century medical education.
This series begins with a primer on how to effectively use technology to "flip" the classroom and reduce lecture time. This is followed by a session that probes the role and utility of instructional design in the development of Health Science courses. Harnessing the teaching potential of social media and identifying "responsible use" policies is the topic of the next session. The following presentation explores the "future of learning" through educational applications of virtual and augmented realities. The series closes with a comprehensive review of learning analytics and their applications to medical education. Upon completion of this series, participants will be better able to identify educational technologies and resources to assist in aligning medical education programs with 21st educational needs and values.
Webinar Description
Recent advances in Virtual Reality and Augmented Reality technology now allow for the creation of realistic, highly immersive experiences for gaming, entertainment, and education at a fraction of the cost of earlier systems. In the past 24 months there has been a dramatic increase in hardware, software, and peripheral devices available for VR and AR experiences. The investment by Facebook of approximately $3 billion in Oculus to develop that platform is but one example of the race to develop VR systems for a wide variety of applications. The HTC Vive and Oculus Rift provide fully immersive desktop-class VR systems with controllers and peripherals that allow for individual tracking, multiplayer participation, and highly immersive simulations. As such, VR simulations which were previously restricted to very expensive systems in large simulation centers can now be created at significantly less cost and be accessible by a wider variety of organizations from K-12 classrooms, universities and medical schools. This presentation will review the emerging field of Virtual Reality and Augmented Reality in medical education and discuss the opportunities and challenges involved in realizing the potential of these technologies.
Learning Objectives
Review the emerging field of Virtual Reality and Augmented Reality in Medical Education
Discuss the opportunities and challenges involved in realizing the potential of these technologies.

Define/Describe Virtual Reality, Augmented Reality, Mixed Reality
History of VR/AR/MR in Medical Education
Current Technologies
Opportunities/Examples
Challenges
Future Directions
Speaker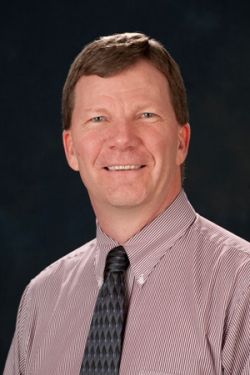 Doug Danforth, PhD
Academic Program Director, Associate Professor, The Ohio State University
Douglas Danforth is an Associate Professor in the Department of Obstetrics and Gynecology at The Ohio State University College of Medicine. He has been involved in medical education for over 20 years at Ohio State and has served as Reproduction Block Leader and Program Director for the Independent Study Pathway and currently serves as the Academic Program Director for Part One (Med 1-2) of the undergraduate medical education curriculum. His primary research interests are in medical education using Virtual Patients and Virtual Reality(VR). Our Virtual Patients are controlled by artificial intelligence to enable students to practice their history taking skills using natural conversation, and the system is designed to provide immediate feedback to the students on their interaction. Our research in Virtual Reality is designed to improve patient safety using VRto train and assess emergency personnel responding to a mass casualty incident. These projects are funded by grants from the Department of Health and Human Services Health Resources and Services Administration, The National Science Foundation, The National Board of Medical Examiners, The Institute for Innovative Technologies in Medial Education, and the Agency for Health Care Research and Quality.
Des Moines University
3200 Grand Avenue
Ryan Hall 281
United States
Des Moines University is located on a 22-acre campus in the heart of Des Moines, Iowa. Just west of downtown on Grand Avenue, the University is located in one of Des Moines' most prestigious neighborhoods. The campus is in a historic neighborhood filled with tree-lined streets and gracious older homes and businesses. Its central location makes it easy to access the rest of the city and outlying communities. The campus is close to the Des Moines International Airport, located on the bus line and just blocks from local shopping and downtown Des Moines.