The Importance of Nutrition in Physician Performance and Well-Being
Registration

Open to DMU faculty and staff only. There is no cost to attend and registration is not required.
​ 
Series Description
As a follow-up to our successful series on faculty and student wellness and resiliency and as a prelude to our annual meeting integrating nutrition and wellness education in teaching the health sciences, the 2018 Spring IAMSE Web Seminar Series focuses on specific examples of how schools have implemented programs to address these issues. The first session will feature presentations by Angela Cheung from the University of Toronto and Maryam Hamadi from Stanford who will describe the current status of physician nutrition, barriers to healthy eating by physician training and practice, and suggestions for awareness recognition of the importance of proper nutrition in the wellness of physicians. The second session will be presented by Nicholas Pennings from Campbell University who will highlight, from a practical standpoint, how a new osteopathic medical school implemented a longitudinal nutrition theme focused on obesity. The next session will be presented by Sian Cotton who will provide a detailed description of a highly successful center for the promotion of integrative health and wellness at the University of Cincinnati. The fourth session will be another paired presentation by John Yoon from the University of Chicago and Tania Jenkins from Temple who will highlight research focused on the moral and spiritual development of students over-time, conducted as part of the of the "Good Physician Project". The series concludes with a presentation by Joe Shapiro from Beth Israel on promotion of student wellness using peer-support groups. This series will set the stage for our upcoming meeting and provide insight into implementation of these important curricular initiatives.
Webinar Description
A novel approach to improve physician well-being is to address their nutrition and hydration status. This lectures covers evidenced-based nutritional strategies for improving brain health and function, sleep and alertness in physicians. Topics include ways to (a) improve dietary habits that affect sleep, (b) utilize nutritional methods to improve alertness while sleep deprived, and (c) to maintain and improve short and long-term brain health.
Speakers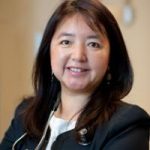 Angela Cheung, MD, PhD
Professor of Medicine, University of Toronto
Dr. Cheung is the Founding Director of University Health Network Osteoporosis Program, the Founding Director of Centre of Excellence in Skeletal Health Assessment (CESHA), a Senior Scientist at Toronto General Research Institute, and Professor of Medicine at the University of Toronto. She is currently holding a Tier 1 Canada Research Chair in Musculoskeletal and Postmenopausal Health.  She is the past chair for Osteoporosis Canada Scientific Advisory Council, and an elected member of the International Osteoporosis Foundation Council of Scientific Advisors.  She obtained her M.D. degree from Johns Hopkins University School of Medicine in 1988, and her Ph.D. degree from Harvard University in 1997. She has been in clinical practice for more than 25 years, and specializes in osteoporosis and postmenopausal health.  She has received many honors and awards throughout her medical career for her excellence in clinical work, research and education, including the CIHR mid-career and senior scientist awards, the Canadian Society of Internal Medicine Dr. David Sackett Senior Investigator Award, the Osteoporosis Canada Lindy Fraser Memorial Award, the Ontario Premier's Research Excellence Award, Ontario Ministry of Health and Long Term Care Health Services Research Scientist Award, University of Toronto Eudenie Stuart Award for best mentorship, and UHN Department of Medicine Award for Excellence in Clinical Teaching.
Maryam Hamadi, PhD
Associate Director of Scholarship and Health Promotion, Stanford University
Dr. Hamidi is a scientist engaged in conducting innovative research projects including development, implementation and evaluation of interventions to improve physicians' well-being and professional fulfillment at Stanford Medicine WellMD Center and Department of Psychiatry and Behavioral Medicine. Dr. Hamidi completed her graduate studies in nutritional sciences at University of Toronto in Canada. She is the author and co-author of many highly cited scientific papers on nutrition and well-being and maintains membership in Canadian Nutrition Society and the American Society for Nutrition. Dr. Hamidi has particular nutrition expertise in enhancing the cognitive performance and alertness of professionals with high cognitive demands, in particular physicians. Prior to joining Stanford Medicine she served as a scientific associate at the University Health Network of Toronto, and as an advisor to Air Canada Rouge pilots and cabin crew on optimal nutrition.
Des Moines University
3200 Grand Avenue
Ryan Hall 181
United States
Des Moines University is located on a 22-acre campus in the heart of Des Moines, Iowa. Just west of downtown on Grand Avenue, the University is located in one of Des Moines' most prestigious neighborhoods. The campus is in a historic neighborhood filled with tree-lined streets and gracious older homes and businesses. Its central location makes it easy to access the rest of the city and outlying communities. The campus is close to the Des Moines International Airport, located on the bus line and just blocks from local shopping and downtown Des Moines.