Adopting and Implementing Protocols to Identify Undiagnosed Hypertension
PURPOSE
This online activity aims to provide cardiovascular health-related information and resources, specifically about policy and systems changes in healthcare systems and clinics for diagnosing and managing hypertension. Participants will learn of specific intervention protocols and their implementation to improve the management and control of hypertension.
LEARNING OBJECTIVES
Define undiagnosed hypertension and its impacts in the US and Iowa.
Use the undiagnosed hypertension prevalence estimator tool for their clinic.
Describe how to establish clinical criteria for undiagnosed hypertension and use electronic health records to identify undiagnosed HTN.
Describe diagnostic and treatment regimens for hypertension.
Discuss the steps to create a written protocol for undiagnosed hypertension identification and management. 
EDUCATIONAL NEED
Million Hearts reports that around 11 million Americans are unaware that they have hypertension and are therefore not receiving the necessary treatments to manage their condition – even though most of these individuals may have health insurance and visit their healthcare provider regularly. Therefore, changes in clinic and health care systems protocols are required to identify individuals with undiagnosed hypertension, otherwise described as 'hiding in plain sight,' reduce their risk for developing cardiovascular disease, and reduce the high morbidity and mortality burden resulting from heart disease. 
The CDC's Division for Heart Disease and Stroke Prevention promotes the implementation of Team-Based Care (TBC) at the health systems level to improve blood pressure control and reduce the burden of cardiovascular disease. This entails having a multidisciplinary team working in collaboration to identify at-risk patients and their risk factors for developing cardiovascular disease and prescribing and modifying treatments as part of a collaborative effort to ensure the best patient outcomes. TBC around hypertension control also provides an opportunity for conducting joint patient education between the various care providers that make up the TBC team and maintaining ongoing dialog with patients about their health and care needs.
The NU58DP006606 Well-Integrated Screening And Evaluation For Women Across The Nation (WISEWOMAN) Program and the NU58DP006514 DP18-1815 Improving the Health of Americans through Prevention and Management of Diabetes, Heart Disease, and Stroke are both Iowa HHS programs funded through the Centers for Disease Control and Prevention (CDC). Both programs are required by their cooperative agreements with the CDC to work with health care providers (HCPs) in Iowa to adopt and implement protocols to identify undiagnosed hypertension in patient populations and protocols on team-based care around hypertension control. Both protocols work towards creating systems that identify and address hypertension effectively and efficiently, thereby reducing the burden of cardiovascular disease in the state.
During the 2021-2022 funding cycle, the Care for Yourself (CFY)–WISEWOMAN Program surveyed and interviewed a sample of program-contracted HCPs, as part of the program's evaluation efforts. Results showed that Iowa HCPs requested more training and experience-sharing opportunities on the best processes to adopt and implement both sets of protocols. This webinar will start a strategy to address these identified educational needs among Iowa HCPs.
Impact of undiagnosed hypertension (including data)
Hypertension prevalence in the US and Iowa
How to estimate the prevalence of patients with undiagnosed hypertension within a health system/clinic
Million Hearts prevalence tool
Policy/Systems change examples for identifying undiagnosed hypertension
Establishing clinical criteria for undiagnosed hypertension
The degree of elevated blood pressure readings should trigger the identification of a patient with undiagnosed hypertension
Using Electronic Health Records
Search electronic health record (EHR) data for patients who meet the established clinical criteria.
Examples of Diagnostic regimens
24-hour ambulatory blood pressure monitoring
Home blood pressure monitoring
Automated office blood pressure readings
Repeated high-quality in-office measurements
Policy/Systems change examples to improve hypertension
Standardized treatment protocols for hypertension management
Patient lifestyle modification education (diet, exercise, smoking cessation, etc.)
Patient follow-up and recall appointments for a recheck
Self-Monitoring Blood Pressure programs
Medication and Medication Therapy Management
Creating a written protocol for undiagnosed hypertension identification 
Million Hearts Hypertension Treatment Protocols Template
Speaker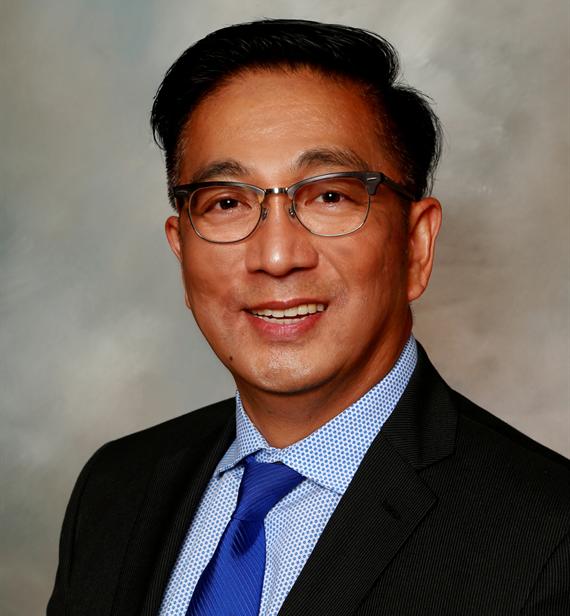 Enrico Martin, MD
Cardiologist, Iowa Heart Foundation 
Education
Cardiology Fellowship: East Tennessee State University
Advanced Cardiac CT/MR Fellowship: University of Florida, Shands
Residency: St. Lukes Hospital, Bethlehem, Pennsylvania
Medical School: University of Santo Tomas, Philippines
Moderators
Denise Attard Sacco, MPH, CHES
Intervention Coordinator and Evaluation Specialist, Care for Yourself (CFY) -WISEWOMAN Program, Iowa Department of Health and Human Services
McKyla Carson, MPH
Heart Disease and Stroke Prevention Coordinator, Iowa Department of Health and Human Services
ACCREDITATION STATEMENTS
MD: This activity has been planned and implemented in accordance with the accreditation requirements and policies of the Iowa Medical Society (IMS) through the joint providership of Des Moines University (DMU) and the Iowa Department of Health and Human Services. DMU is accredited by IMS to provide continuing medical education for physicians. DMU designates this live, online activity for a maximum of 1.0 AMA PRA Category 1 Credit(s)™.  Physicians should only claim credit commensurate with the extent of their participation in the activity. 
DO: Des Moines University (DMU) is accredited by the American Osteopathic Association (AOA) to provide osteopathic continuing medical education for physicians. DMU designates this program for a maximum of 1.0 AOA Category 2-A credits and will report CME and specialty credits commensurate with the extent of the physician's participation in this activity.
Nurse: Des Moines University is Iowa Board of Nursing approved provider #112. This live activity has been reviewed and approved for 1.0 continuing education contact hour(s). No partial credit will be awarded.
Other Health Professionals: This live activity is designated for a maximum of 1.0 AMA PRA Category 1 Credit(s)™.
EDUCATIONAL GRANTS
No ineligible company provided financial support for this continuing education activity. 
DISCLOSURE
The speaker(s) will disclose if any pharmaceuticals, medical procedures, and devices discussed are investigational or unapproved by the U.S. Food and Drug Administration (FDA). The determination of educational content and the selection of speakers is the responsibility of the activity director. 
Relevant to the content of this educational activity, the following individuals have no conflict(s) with ineligible companies to disclose.
Denise Attard Sacco, MPH, CHES - Activity director and moderator
McKyla Carson, MPH - Activity coordinator and moderator
Enrico Martin, MD - Speaker
DISCLAIMER
The information provided in this activity is for continuing education. It is not meant to substitute for the independent medical judgment of a healthcare provider relative to diagnostic and treatment options of a specific patient's medical condition. The content of each presentation does not necessarily reflect the views of Des Moines University.
Available Credit
1.00

AMA PRA Category 1 Credits™

1.00

AOA Category 2­A

1.00

CE Contact Hour(s)

1.00

IBON