POSTER PRESENTATIONS
Materials should NOT be shared with those that are not registered for the conference. Poster abstracts are not proofed for spelling and/or grammar errors.
---
Emerging Technologies for Education (VR/AR/360 Tours/Apps)
Tess McKinney, AAS
University of Nebraska Medical Center
---
Objectives
Describe a variety of immersive/emerging technology applications to use with students.
Expand connections for future projects in VR/AR/360 Tours.
Use Augmented Reality to build an educational immersive scavenger hunt using the ROAR/BLIPPAR App.
Abstract
Did you know that you can create your own Virtual and Augmented Reality? I will present different emerging technologies for any classroom experience to take engaged and distance learning to a new level. I will show you inexpensive and easy solutions, such as 360 Photo Tours for student learning and recruitment as well as Virtual/Augmented Reality Applications for a new and innovative way of learning. I will show you an inexpensive and easy solution to create 360 Photo/Video Tours with your students, how to use augmented photography to overlay important information, quizzes and interactions on still objects around your classroom, and let you try out an Oculus Quest with VR applications built for Education by students from here in Nebraska. We are using 360 Photo Tours to capture a simulation room and identify key components in that room, thus making an application that any student can use in an interactive way. I have created a 360 Photo Tour of our beautiful Campus for student recruitment. We are also using Augmented Photography to overlay important messages, quizzes or interactions on still objects in our building. I will showcase applications such as Oculus Quest with free VR applications built for education by students from here in Nebraska such as a Tractor Safety Simulation and a Nursing Escape room experience.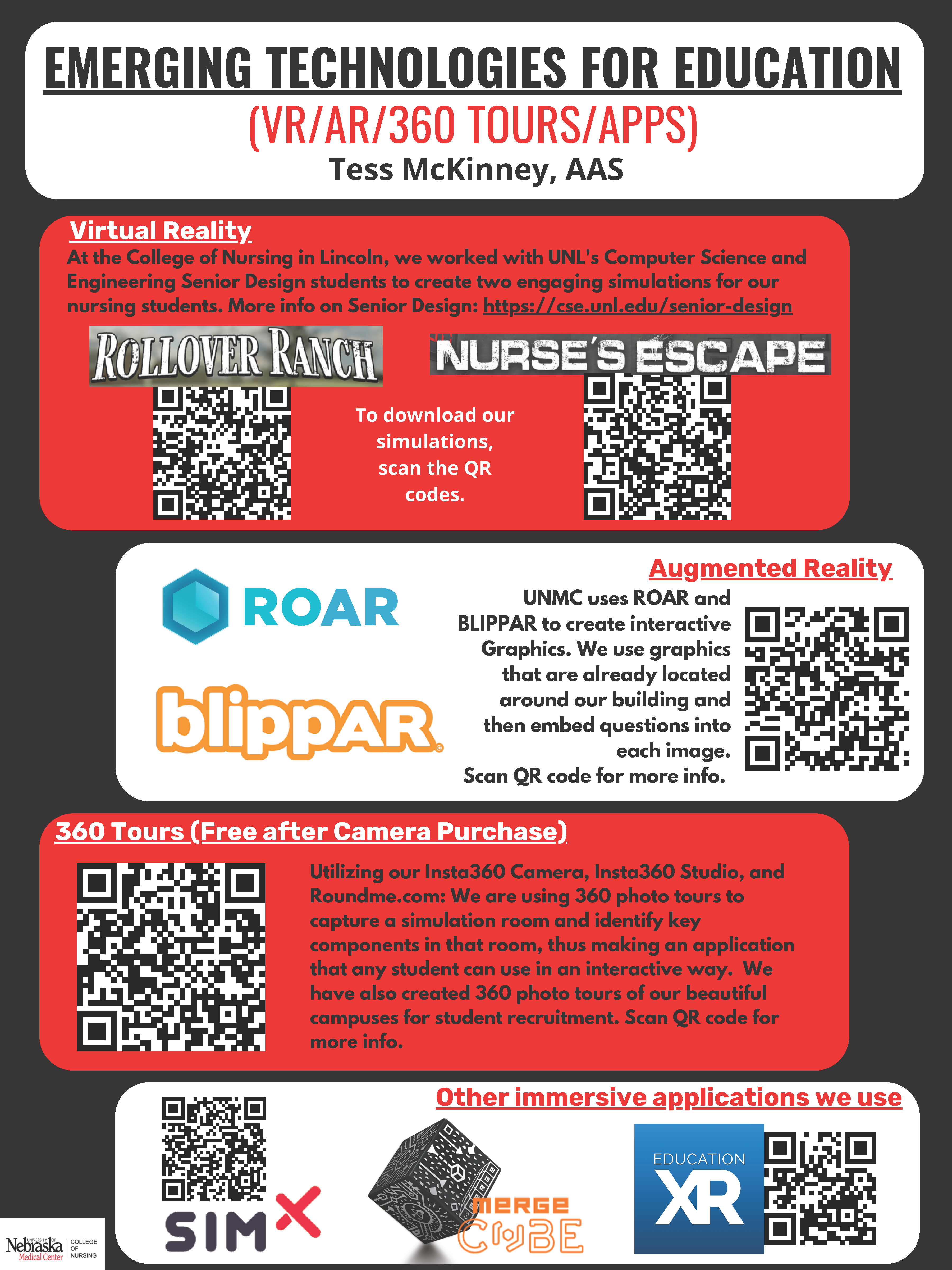 View PDF version to zoom or download.
---