Shoulder the Challenge of Movement Measurement
Registration

There is no cost to attend and registration is not required.
 
Target Audience
Des Moines University faculty, staff, and students.
Objectives
Recognize the need and the challenges for objective shoulder movement measurements.
Summarize the pros and cons of the difference human movement measurement methodologies.
Appraise the shoulder joint research we do at the DMU Human Performance Laboratory.
Speaker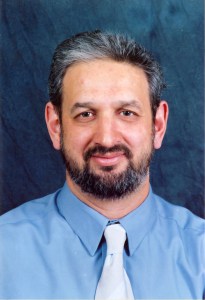 Vassilios Vardaxis, PhD
Professor, Physical Therapy, Des Moines University
Dr. Vardaxis' research is in human biomechanics. He studies the movement, load, and response of the musculoskeletal system under typical and constrained conditions aiming to understand and describe risks to pathology onset, progression, and rehabilitation. Specifically with respect to the shoulder, in the Human Performance Laboratory he currently focuses on measurement and description of the healthy shoulder movement under various clinically relevant experimental conditions. His longer-term aim is to overcome the measurement challenges of the healthy and pathological shoulder movement/function using non-invasive, valid, and reliable measurements that are sensitive enough to be used in the clinical setting for evaluation and intervention assessment purposes.
Des Moines University
3200 Grand Avenue
SEC #115
United States
Des Moines University is located on a 22-acre campus in the heart of Des Moines, Iowa. Just west of downtown on Grand Avenue, the University is located in one of Des Moines' most prestigious neighborhoods. The campus is in a historic neighborhood filled with tree-lined streets and gracious older homes and businesses. Its central location makes it easy to access the rest of the city and outlying communities. The campus is close to the Des Moines International Airport, located on the bus line and just blocks from local shopping and downtown Des Moines.