Novel Translational Strategy for the Treatment of Parkinson's Disease

Registration

There is no cost to attend and registration is not required.
 
Target Audience
Des Moines University faculty, staff, and students.
Learning Objective(s)
Understand treatments for Parkinson's disease
Speaker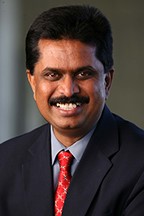 Anumantha Kanthasamy, MS, MPhil, PhD
Clarence Hartley Covault Distinguished Professor, W.E Lloyd Chair in Neurotoxicology, Iowa State University
Dr. Kanthasamy's lab has been at the forefront of unraveling the cell signaling mechanisms underlying how chronic environmental exposure to metals and neurotoxic pesticides contributes to mitochondrial dysfunction, oxidative stress, protein aggregation, neuroinflammation and apoptosis. This knowledge will advance the development of novel translational approaches for the treatment of neurodegenerative diseases. More information.
Des Moines University
3200 Grand Avenue
SEC #115
United States
Des Moines University is located on a 22-acre campus in the heart of Des Moines, Iowa. Just west of downtown on Grand Avenue, the University is located in one of Des Moines' most prestigious neighborhoods. The campus is in a historic neighborhood filled with tree-lined streets and gracious older homes and businesses. Its central location makes it easy to access the rest of the city and outlying communities. The campus is close to the Des Moines International Airport, located on the bus line and just blocks from local shopping and downtown Des Moines.