Elucidating the Mechanism of Neutrophil Apoptosis Inhibition by Francisella Tularensis

Registration

There is no cost to attend and registration is not required.
 
Target Audience
Des Moines University faculty, staff, and students.
Speaker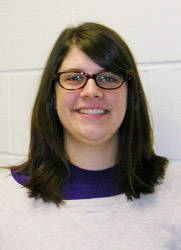 Laren Kinhead, PhD
Department of Microbiology and Immunology, University of Iowa
Francisella tularensis is a Gram-negative, facultative intracellular organism and the etiologic agent of the disease tularemia. The pathogenicity of F. tularensis is dependent on its ability to modulate the host immune responses, and survive and replicate within host cells. F. tularensis infects many cell types, including polymorphonuclear leukocytes (PMN; neutrophils). Neutrophils are an important component of the innate immune system as they are the most abundant leukocyte in circulation and are the first to arrive at the site of infection. Neutrophils are short-lived cells as they undergo constitutive, spontaneous apoptosis. Some intracellular pathogens, including Neisseria gonorrhoeae and Chlamydia pneumoniae, inhibit neutrophil apoptosis to allow for intracellular survival and growth. Our lab recently demonstrated that F. tularensis prolongs human neutrophil lifespan by inhibiting the major apoptotic pathways. The factors that function in prolonging neutrophil lifespan remain undefined. In addition, direct contact between F. tularensis and neutrophils is not essential for the survival of infected neutrophils suggesting that a secreted bacterial factor may contribute to this effect. The primary goal of my research is to identify the factor(s) responsible for prolonging human neutrophil lifespan following infection with F. tularensis and further characterize the mechanism by which this prolongation occurs to gain insight into the mechanism(s) by which F. tularensis manipulates the host immune response in order to cause disease.
Des Moines University
3200 Grand Avenue
SEC #115
United States
Des Moines University is located on a 22-acre campus in the heart of Des Moines, Iowa. Just west of downtown on Grand Avenue, the University is located in one of Des Moines' most prestigious neighborhoods. The campus is in a historic neighborhood filled with tree-lined streets and gracious older homes and businesses. Its central location makes it easy to access the rest of the city and outlying communities. The campus is close to the Des Moines International Airport, located on the bus line and just blocks from local shopping and downtown Des Moines.