Iowa Diabetes + Wellness Summit

Registration

The 2022 Iowa Diabetes & Wellness Summit is scheduled to take place in-person on Friday, November 4, 2022, at the FFA Enrichment Center in Ankeny, Iowa. 
Cost
Early pricing ends on October 20, 2022!
Early Bird: $50
Regular Rate (starting October 21): $65
You must log in or create an account before enrolling in this educational activity. 
Once you're logged in, please select the "REGISTER" tab to process your payment and complete your registration.
 
Purpose
The summit will provide an engaging forum to discuss the latest practices, opportunities, resources, and tools for diabetes prevention, control, and management. National, state, and local experts will share innovative and best practice strategies to reduce the burden of diabetes and empower patients and their families to live healthier lives.
Target Audience
Public health professionals, physicians, podiatrists, nurses, advance practice nurses, chiropractors, physical therapists, health coaches, certified diabetes educators, dietitians, pharmacists, diabetes prevention program facilitators, diabetes self-management education coordinators, and third-party payers.
Keynote Speaker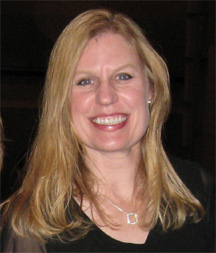 Amy Hess-Fischl, MS, RD, LDN, BC-ADM, CDE, is the program coordinator for the Teen and Adolescent Diabetes Transition Program at the University of Chicago's Kovler Diabetes Center. She is also a certified diabetes educator, nutrition specialist, and certified insulin pump trainer.
Ms. Hess-Fischl completed her undergraduate degree at Northern Illinois University in DeKalb, IL, and her Master of Science degree from Mount Mary College in Milwaukee, WI. Ms. Hess-Fischl actively volunteers for several diabetes-related professional organizations, including the Academy of Nutrition and Dietetics, American Diabetes Association, CE test item writing for the American Association of Diabetes Educators, reviewing submissions for the Journal of the American Dietetic Association, and participating on the advisory boards of Nature's Way, Dreamfields Pasta, and Jolly Time Popcorn.
Ms. Hess-Fischl is the recipient of the 2022 National Scientific & Health Care Achievement Outstanding Educator in Diabetes Award. This award recognizes a distinguished health professional who has made outstanding educational efforts in the field of diabetes. Ms. Hess-Fischl was a co-author of the 2015 and 2020 Consensus Reports for DSMES in Type 2 Diabetes and was a co-author of the 2017 National Standards for DSMES and co-chair of the 2022 revision. She is the creator of the In Transit program at the University of Chicago, where she works with transitioning Type 1 youth in a collaborative care scenario.
Ms. Hess-Fischl is a strong advocate that all people with diabetes should be given the opportunity to received diabetes self-management education and support. She can say without question that she is lucky to be working her dream job—being able to collaborate with people with diabetes to enhance their self-management skills and knowledge.
Abstract submissions have closed and the agenda will be announced soon!
Agenda Outline
All times are listed in Central Time. The agenda is subject to change.
| Time | Session |
| --- | --- |
| 8:30 am | Registration + Exhibit Hall |
| 9:00 am | Opening Remarks |
| 9:10 am | Keynote Address |
| 10:30 am | Break + Exhibit Hall |
| 11:00 am | Session #1 |
| 12:00 pm | Lunch (Provided) |
| 12:45 pm | Session #2 |
| 1:45 pm | Break + Exhibit Hall |
| 2:15 pm | Session #3 |
| 3:15 pm | Break + Exhibit Hall |
| 3:30 pm | Session #4 |
| 4:30 pm | Q&A + Closing Remarks |
| 4:45 pm | Adjourn |
FFA Enrichment Center
1055 SW Prairie Trail Pkwy
United States
Designed to promote leadership development, personal growth and career success for both high school and college-age Iowa youth, the FFA Enrichment Center has unique tools and resources to enhance the educational experience. Some examples include computer and science laboratories, future fiber optic connectivity for long-distance learning, recreational/exhibit space and breakout rooms for groups of all sizes. In addition, the 60,000 square foot center offers state-of-the-art conference center facilities that can seat more than 500 participants.
Travel
The FFA Enrichment Center is a beautiful and convenient meeting and conference center adjoining the Des Moines Area Community College campus in Ankeny, Iowa.
Driving Directions
From Interstate 35 (I-35)
Take I-35 either North or South to Ankeny.
Take the Oralabor Road exit (same as airport) & Go West
If you are coming from the north, this is a right turn
If you are coming from the south, this is a left turn.
After driving about 2 miles, you will run into South Ankeny Blvd.
Turn right onto South Ankeny Blvd.
Turn left on DMACC Blvd.
Turn right on SW Campus Court
From Interstate 80 (I-80) in Des Moines
Take the 2nd Avenue exit north (Highway 415).
Drive to Oralabor Road in Ankeny.
Turn right on Oralabor Road.
Turn left at the first stoplight—DMACC Blvd.
Turn left on SW Campus Court
ACCREDITATION STATEMENTS
Coming soon.
EDUCATIONAL GRANTS
No ineligible company provided financial support for this continuing education activity.
DISCLOSURE
The speaker(s) will disclose if any pharmaceuticals or medical procedures and devices discussed are investigational or unapproved for use by the U.S. Food and Drug Administration (FDA). Determination of educational content and the selection of speakers is the responsibility of the activity director. 
Relevant to the content of this educational activity, the following individual(s) have no conflict(s) with ineligible companies to disclose.
Christina Billings, MPH, CHCP - Planning Committee Member
Michael Boyson - Planning Committee Member
Lori Byrd, MS - Planning Committee Member
Rachel Finkelstein - Planning Committee Member
Wesley Franklin, MS - Planning Committee Member
Vanessa Gray, MHA, CMP, CHCP - Planning Committee Member
Laurene Hendricks - Planning Committee Member
Carol Hibbs - Planning Committee Member
Kathleen Kunath, RN - Planning Committee Member
Andrew Minear, MPH - Planning Committee Member
Wendy Mobley-Buckstein, PharmD, BCACP, CDCES, CHWC, FAPhA - Activity Director
Trina Radske-Suchan, MPT, CSCS - Planning Committee Member
Kady Reese, MPH, CPHQ - Planning Committee Member
Cari Seddon, MA, RDN, LD, CDCES - Planning Committee Member
DISCLAIMER
The information provided at this activity is for continuing education purposes only and is not meant to substitute for the independent medical judgment of a healthcare provider relative to diagnostic and treatment options of a specific patient's medical condition. The content of each presentation does not necessarily reflect the views of Des Moines University.
2022 Exhibitors
We would like to emphasize that we greatly value the support provided by sponsors, which facilitates the execution of a high-quality meeting experience for all. Thank you to the sponsors of the 7th Annual Iowa Diabetes + Wellness Summit! Click the organization's logo to learn more and connect with them in-person on November 4, 2022!
Exhibitor Prospectus
The 7th Annual Iowa Diabetes & Wellness Summit is a one day conference that brings together health professionals, including diabetes educators, physicians, dietitians, nurses, and public health practitioners, from across the state of Iowa to learn about the latest in diabetes care, network, and share their experiences working in the field. The Summit planning committee is currently accepting exhibitor registration for the 2022 conference being held in-person at the FFA Enrichment Center in Ankeny, Iowa. 
Important Dates
Exhibitor registration deadline: Friday, October 21, 2022.
Live conference: Friday, November 4, 2022. Set-up begins at 8:00 am. 
Conference Planning Committee Organizations
American Heart Association
CHPcommunity
Des Moines University
Drake University College of Pharmacy & Health
Iowa Chronic Care Consortium
Iowa Department of Public Health
Iowa Healthcare Collaborative
Iowa Medical Society
Marshalltown YMCA-YWCA
Telligen
University of Iowa / CHS
Exhibitor Opportunities
The exhibit space will be open for a minimum of 90 minutes to include three (3) program breaks and a lunch break. As an exhibitor, you will receive:
Two complimentary Summit registrations
Lunch and snacks
One six-foot table (linens not included)
Company logo recognition on event page
Company name recognition on press release/email blasts
Cost
 

Early Bird
(before 10/01/22)

Regular Rate
(10/01/22 - 10/21/22)

Exhibitor

$300

$400

Non-profit or government agency

$150

$250
Additional Sponsorship Opportunity: Provide a prize for winners of a drawing!
If you're interested in sponsoring, email Trina Radske-Suchan at tsuchan@chpcommunity.org.
CANCELLATION POLICY
All cancellations must be received in writing at cme@dmu.edu.
A nonrefundable administrative fee of $20 will be charged for all cancellations.
No refunds will be given three (3) business days before the activity start date.
Canceled registrations can be transferred to another individual for the same activity.
Individuals who fail to attend the activity (no-shows) will not receive any refund. Forfeited fees may not be applied to any other activity.