August 24, 2020

to

August 26, 2020

Registration

Registrations are being accepted by invitation only. Please contact Dr. Tracy Porter at 515-271-1390 or tracy.porter@dmu.edu to apply to register yourself or a patient. 
 
Stroke Camp is an elective course offered to the Doctor of Physical Therapy (DPT) students at Des Moines University.  During the camp, individuals post-CVA receive intensive physical therapy treatment delivered by DMU DPT students under the supervision of faculty and clinician volunteers.
Join the camp for a day (or more!) as a supervising therapist! In addition to benefiting patients with stroke, you will make an invaluable contribution to DMU DPT students who are eager to learn and practice. You also can earn up to four continuing education hours.
Encourage your clients with stroke to register for this free program. They'll work with a team of DMU DPT students, faculty and supervising clinicians who will plan therapy sessions customized to meet their needs. Each participant will also receive a post-camp home exercise program. 
Intensive, individualized physical therapy can help stroke survivors improve their gait, balance, strength and dexterity. That's the purpose of Des Moines University's annual Stroke Camp, hosted on campus since 2012 by DMU's DPT program. Watch the video below to learn more.
Agenda
Coming soon.
Objectives


Group photo from the 2019 DMU Stroke Camp.
Des Moines University
3200 Grand Avenue
United States
Des Moines University is located on a 22-acre campus in the heart of Des Moines, Iowa. Just west of downtown on Grand Avenue, the University is located in one of Des Moines' most prestigious neighborhoods. The campus is in a historic neighborhood filled with tree-lined streets and gracious older homes and businesses. Its central location makes it easy to access the rest of the city and outlying communities. The campus is close to the Des Moines International Airport, located on the bus line and just blocks from local shopping and downtown Des Moines.
Instructor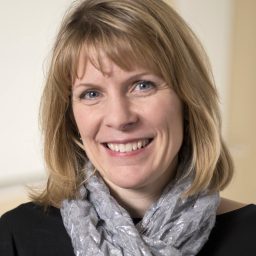 Tracy Porter, PT, DPT is the Assistant Director of Clinical Education for the DPT program at Des Moines University. Dr. Porter received her Master of Science in Physical Therapy from Des Moines University and her Doctor of Physical Therapy from Washington University in St. Louis, MO. Dr. Porter is active in research in the areas of student learning and clinical education.  She is active both on and off-campus, providing supervision for DPT students participating in activities such as back-to-school physicals with Des Moines Public Schools, FunFitness screening for the Special Olympics, Mini Medical School at DMU, Iowa State Fair health screenings, and Stroke Camp. Dr. Porter is the current president of the Iowa Physical Therapy Association and is an Iowa delegate to the American Physical Therapy Association House of Delegates.
Offered to clinicians completing one full day of supervision during the Stroke Camp. Prior to the camp, the clinician volunteers will:
Read two required articles.
Participate in a one-hour on-line or phone discussion with all of the clinicians and course instructor. Scheduled for late afternoon or early evening in August. 
Complete a post-test related to the content in the two provided research articles.
Registrations are being accepted by invitation only. Please contact Dr. Tracy Porter at 515-271-1390 or tracy.porter@dmu.edu to apply to register yourself or a patient.