POSTER PRESENTATIONS
Materials should NOT be shared with those that are not registered for the conference. Poster abstracts are not proofed for spelling and/or grammar errors.
---
Interprofessional Team Education Through Telehealth to Improve Geriatric Transitional Care
Renee R. Sullivan, MSN, RN, APRN-GNP-BC and Amber Golden, DNP, APRN, AGPNP-BC
University of Nebraska Medical Center
---
Objectives
Describe telehealth use for teaching Adult Gerontology Primary and Acute Care students who are collaborating with Pharmacy students in preparing an interprofessional comprehensive geriatric plan of care focused on transitioning from hospital to skilled nursing facility. 
Discuss the experience of interdisciplinary students leading in collaboration, communication, ethical decision-making, and teamwork to help optimize their assigned patient's care using evidenced-based guidelines. 
Discuss measures and procedures to evaluate telehealth for IPE in the interprofessional IPE clinical training using the Interprofessional Collaborative Competencies Attainment Survey measurement tool.
Abstract
Purpose: The Objective Structured Clinical Examination (OSCE) provided Interprofessional Education (IPE) for Adult Gerontology Primary Care (AGPCNP) and Adult Gerontology Acute Care (AGACNP) Nurse Practitioners, and Doctor of Pharmacy (PharmD) students in the methods of Comprehensive Geriatric Assessment (CGA) using Telehealth. The overall purpose was to improve safety for older adults who transition from Acute Care Hospital to Skilled Nursing Facility (SNF). 
Background/Significance: The Covid-19 pandemic has prevented advanced practice students from conducting in-person clinical experiences in SNF. Pre-COVID pandemic, this interprofessional CGA was led by interprofessional student teams with facility team members and conducted in-person. Innovative use of telehealth allowed students to conduct a Comprehensive Geriatric Assessment (CGA) with the Geriatric Specialty Clinical Faculty performing real-time physical comprehensive examination. Comprehensive Geriatric Assessment is a key element in providing high quality health care to older patients across settings. Interprofessional education provided students the opportunity to practice communication, collaboration, ethical decision-making, and teamwork with other professionals.  
Methods: Procedures include performing CGA, interprofessional competencies, medication optimization, and interprofessional plan of care. Changes made to the standard OSCE: 1) had to have preparatory telehealth education for all participants, 2) adapted telehealth technology to Zoom format to facilitate collaboration of Interprofessional team members with older patients, 3) establish and facilitate CANVAS course platform to allow all participants to work together, 4) create unique CANVAS design to allow private de-identified data regarding team's individual patients including medical records, and complete screening tools, and standardized templates for completing student-led comprehensive plan of care, 5) use ZOOM technology to facilitate break-out rooms for student planning and debriefing.  Measures include Interprofessional Collaborative Competencies Attainment Survey (ICCAS) to assess the improvement of competencies in collaboration among the disciplines.  
Results: 42 students including 8 Primary Care, 13 Acute Care NP's, and 21 Pharmacy participated in telehealth facilitated CGA. Seven individualized Interprofessional Plans of Care were completed, with physical examinations conducted by faculty. Benefits: 1) allowed for an increased number of students to participate, 2) allowed remote learning, 3) allowed for rich interprofessional telehealth experience, 4) unique use of ZOOM for breakout debriefing, 5) allowed for students to participate in a clinical experience they would have been denied due to COVID restrictions in all facilities, and 6) adapted use of Ring-light and encrypted iPad with ZOOM technology. Limitations: 1) COVID-19 pandemic decreased faculty's time to prepare, 2) due to COVID-19, community stakeholder was still recuperating from lock-down, 3) as expected, radical changes in personnel at the SNF were occurring, 4) due to time constraints, additional IPE training related to OSCE for the SNF personnel was not completed. 
Conclusion: We acknowledge the benefits to increased access to CGA and transitional care using Telehealth to teach IPE.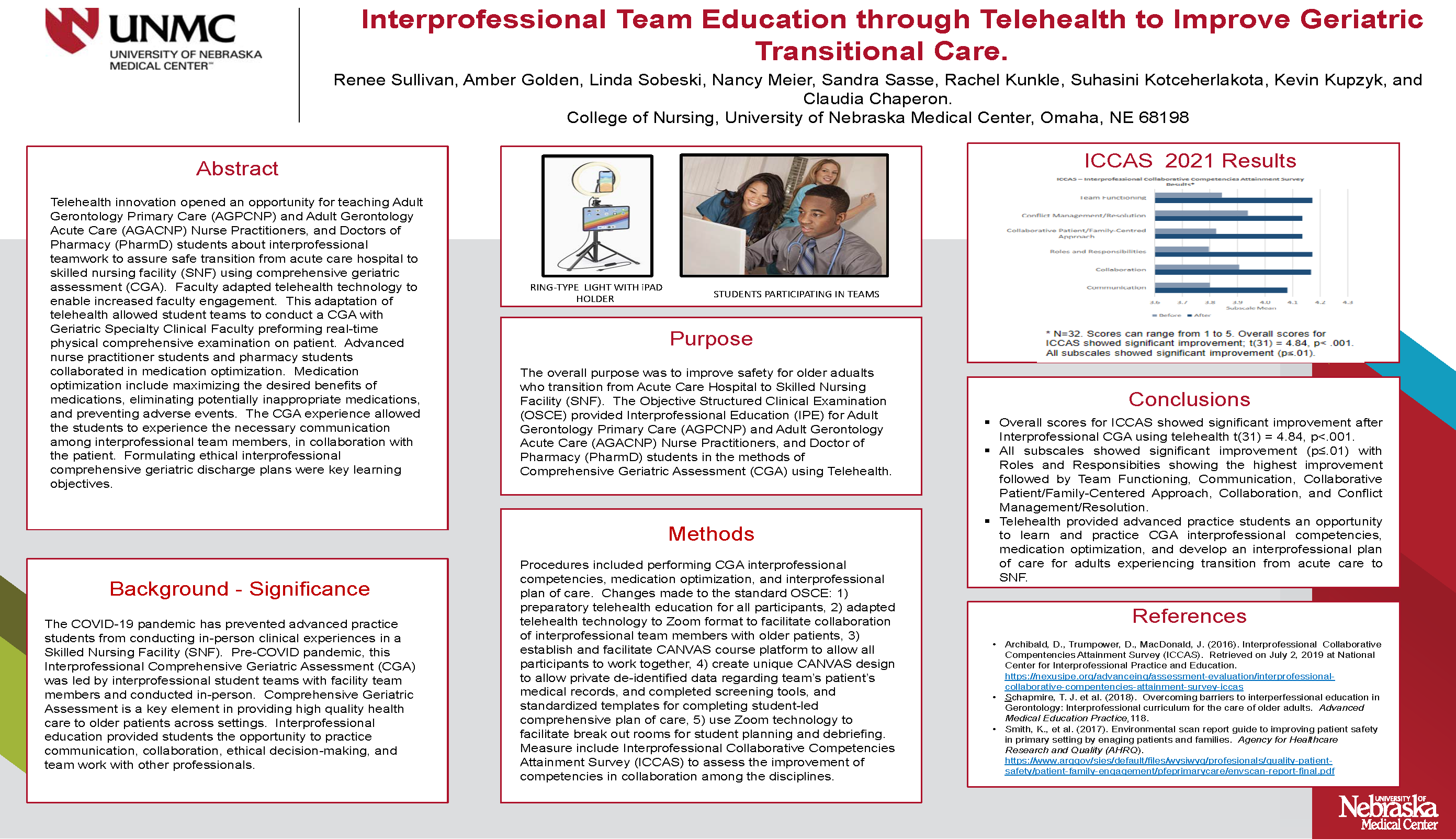 View PDF version to zoom or download.
---