POSTER PRESENTATIONS
Materials should NOT be shared with those that are not registered for the conference. Poster abstracts are not proofed for spelling and/or grammar errors.
---
Teaching Collaboration in Genetic Counseling Through Interprofessional Structured Clinical Encounters
Martin Schmidt, PhD
Des Moines University
---
Objectives
Describe the value and outcomes of an interprofessional panel and OSCE for teaching clinical genetics to undergraduate medical students.
Consider future iterations of this intervention to improve student knowledge building and increase awareness of the collaborative nature of clinical genetics.
Abstract
Background: Medical Genetics is a rapidly progressing specialty that produces vast amounts of health-related and highly relevant patient data. Collection, interpretation and communication of genetic data is very complex. The education of Clinical Genetic specialists has not kept pace with the ever-increasing demand for genetic counseling and interpretation services. In practice, the genetic aspects of patient care are often divided among members of an interprofessional team of physicians, genetic counselors and clinical genetic laboratory scientists. There is a clear need to understand the demands of interprofessional collaboration in Clinical Genetics patient care and to develop innovative strategies to meet those demands beginning in Undergraduate Medical Education. Our study explores future physicians' preparation and motivation for interprofessional genetic patient care by evaluating Genetics professionals' feedback and Medical Student performance in an Objective Standardized Clinical Encounter (OSCE). 
Aims: The study aims to assess the potential of a Genetics Counseling OSCE for the teaching of interprofessional collaboration between primary care physicians, clinical geneticists and genetic counselors as well as the outcome of the OSCE on preclinical medical students' knowledge, skills and attitudes in the field of clinical genetics. 
Intervention: Students in the preclinical phase of their medical education at Des Moines University College of Osteopathic Medicine participated in a multidisciplinary panel discussion with three genetic counselors and clinical geneticists before completing a standardized encounter with a patient presenting for counseling with a first degree relative diagnosed with familial breast cancer. 
Outcomes: Interprofessional learning aspects of the intervention were evaluated with individual structured interviews conducted via Zoom teleconference. Panelists and evaluators answered 9 question on students' understanding of the interprofessional nature of modern clinical genetics patient care and the educational value of the OSCE. Responses were recorded and quantified with a 5-point scale. Student learning outcomes were assessed with a one-arm, pre-post intervention study, which surveyed participants with an anonymous 18-item questionnaire assessing motivation and attitudes and 15-item multiple choice quiz assessing genetic knowledge and skills. Surveys were administered before and after the encounter. Student responses were analyzed for significant differences pre-post intervention with a Mann-Whitney U test. 
Results and Conclusions: Five genetics professionals participated in the post-OSCE survey of panelists and evaluators. Participants agreed that first-year Medical Students did not have a clear understanding of the scope of practice of different genetics professionals and strongly agreed with the statement that the employed standardized clinical encounter is a good format to teach these interprofessional aspects of clinical genetics. Fourteen students participated in the pre-post survey of genetics attitudes, skills and knowledge. Only the "interest in clinical genetics" domain of the survey responses showed significant improvement; genetic knowledge and skill domains were not affected. We conclude that the Panel Discussion/OSCE format is well-suited for teaching interprofessional aspects of collaboration between clinical genetics professionals to undergraduate medical students.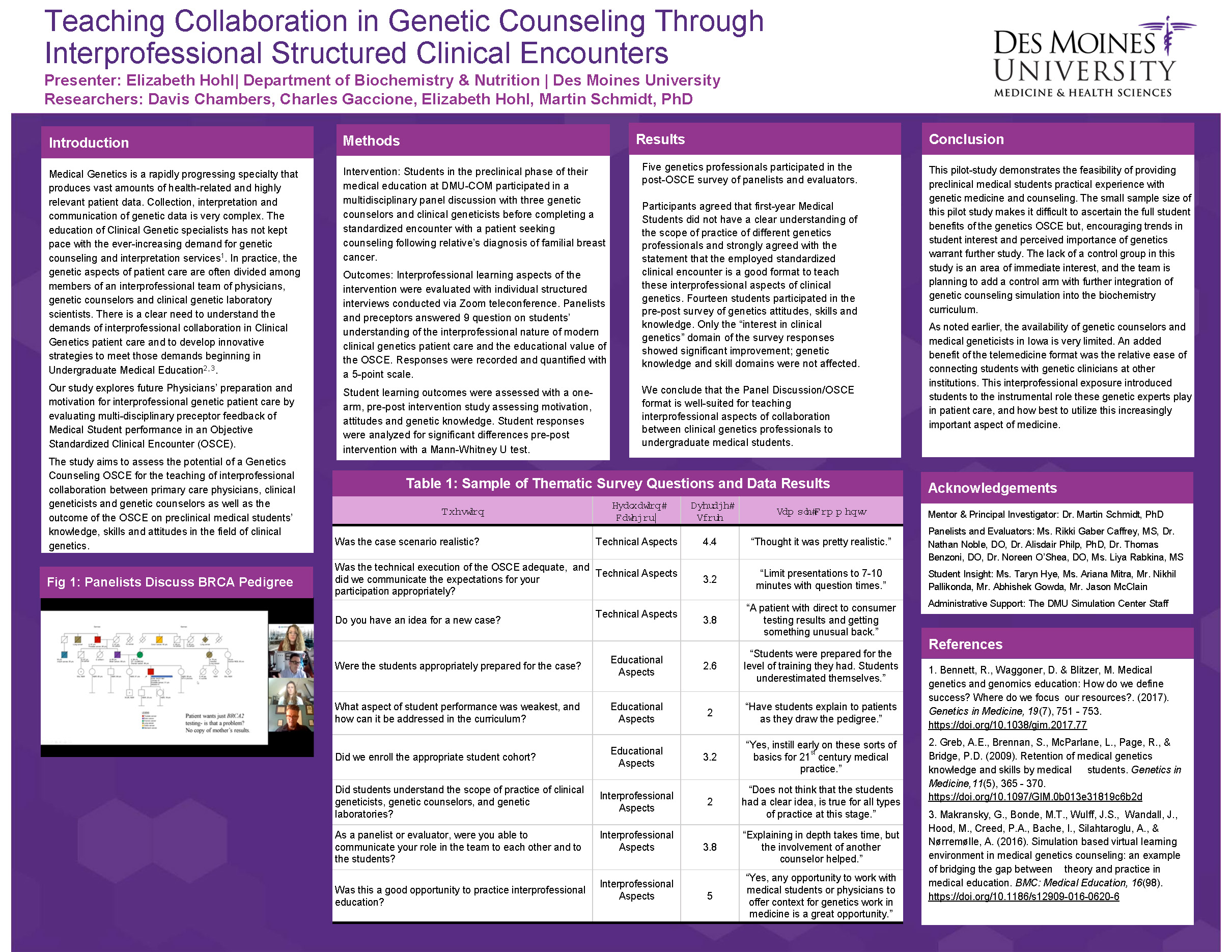 View PDF version to zoom or download.
---