POSTER PRESENTATIONS
Materials should NOT be shared with those that are not registered for the conference. Poster abstracts are not proofed for spelling and/or grammar errors.
---
Annual Case Competition to Facilitate Interprofessional Collaboration and Communication
Megan Hotchkiss, PT, DPT, Jana Waller, MS, CCC-SLP, and Karen Edwards, MHA, PhD
Ithaca College
---
Objectives
Describe the value of case competitions as a method to implement IPE across multiple health professions programs.
Recognize the importance of community involvement in IPE learning experiences to promote student engagement and development.
Abstract
Background & Purpose: Interprofessional education (IPE) occurs when students learn about, from, and with each other.1 Health professionals collaborate to provide high quality care, solve health problems, and improve systems of delivery; making the need for IPE apparent. IPE is often implemented by bringing students of various disciplines together to discuss hypothetical cases or educational sessions about other professions.2 True IPE, however, occurs when students are active participants in learning about other disciplines and teaching about their own.1 Case competitions (CC) are an innovative approach to true IPE and offer a unique approach to highlighting the complex nature of collaboration across health disciplines.2,3 While originally a concept in business schools, CC provide a unique method of integrating IPE by promoting interdisciplinary collaboration, problem solving, and communication around a real-world health problem.2 
Methods: Two annual case competitions (CC) were held with 69 health professions students participating (24 in 2020, 45 in 2021) representing 10 health profession majors. Interprofessional teams of 3-4 students collaborated to solve an actual problem presented by a community stakeholder in a time-bounded competition judged by community health professionals. On day 1, a case relevant to the community with background data was provided to the teams. Teams had 48 hours to develop a feasible solution with actionable terms; teams were provided an expert consultant to assist in their idea development. On the final day, teams presented their proposals to a panel of judges. Students completed the Interprofessional Socialization and Value Scale (ISVS) both pre- and post-CC, as well as, 3 open-ended questions post-CC. These methods measure changes related to the Interprofessional Education Collaborative (IPEC) competencies 3 (communication) and 4 (teamwork). These competencies relate to communication and teamwork among disciplines. A focus group was also utilized to offer reflections on the experience.
Results: 45 students completed the pre-CC ISVS, 35 students completed the post-CC ISVS. Open-ended responses demonstrated themes of increased confidence working with individuals from other disciplines, discovering varying perspectives, increased knowledge related to teamwork that may occur upon graduation. Students described a deeper understanding of other disciplines, their scope, and application to a broader health problem. A theme of recognition emerged as students saw the relevance of IPE in their future careers. Students felt limited in their ability to participate in IPE when it occurs outside of structured curricula. 
Discussion: Interprofessional collaboration is a vital component of all health professions, however, creating opportunities for students to practice and develop the skills to collaborate effectively can be challenging. CC provide an environment for students to not only learn about other disciplines, but from peers within those disciplines while working in a limited timeline to solve an actual health problem. This setting is more representative of future practice than current didactic approaches. This method of IPE, this annual CC provides a model on how to engage students in meaningful interprofessional collaboration. It allows for authentic discovery and serves to transform the landscape of healthcare and outcomes for individuals, their families, and communities.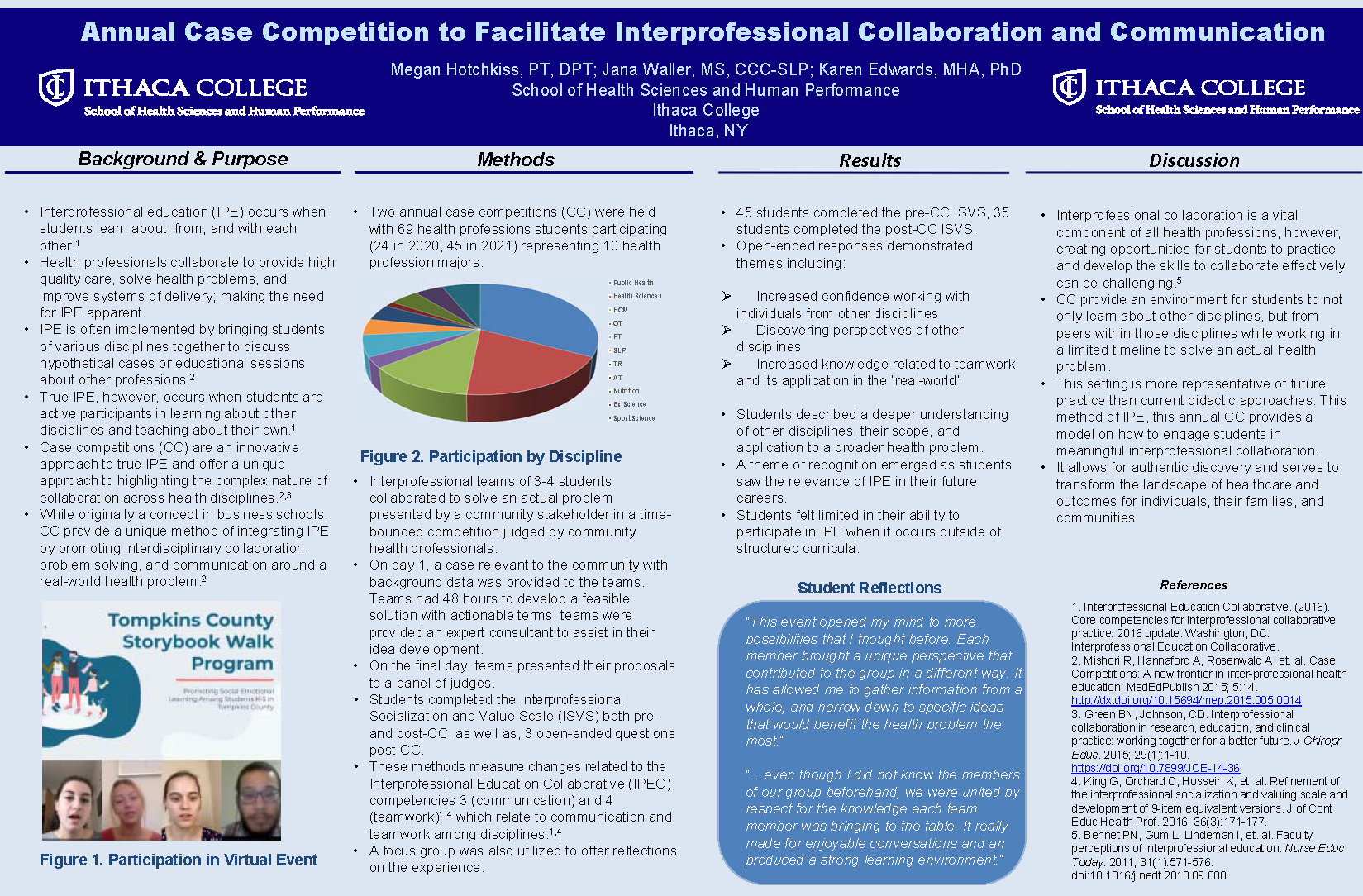 View PDF version to zoom or download.
---